A future warning
3rd April 1982
Page 2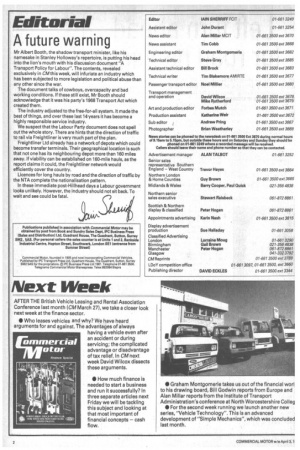 Page 2, 3rd April 1982 —
A future warning
Close
Mr Albert Booth, the shadow transport minister, like his namesake in Stanley Holloway's repertoire, is putting his head into the lion's mouth with his discussion document "A Transport Policy for Labour". The contents, revealed exclusively in CMthis week, will infuriate an industry which has been subjected to more legislation and political abuse than any other since the war.
The document talks of cowboys, overcapacity and bad working conditions. If these still exist, Mr Booth should acknowledge that it was his party's 1968 Transport Act which created them.
The industry adjusted to the free-for-all system. It made the best of things, and over these last 14.years it has become a highly responsible service industry.
We suspect that the Labour Party document does not spell out the whole story. There are hints that the direction of traffic to rail via Freightliner is very much part of the plan.
Freightliner Ltd already has a network of depots which could become transfer terminals. Their geographical location is such that not one has its neighbouring depot more than 160 miles away. If viability can be established on 160-mile hauls, as the report claims it could, the Freightliner network would efficiently cover the country.
Licences for long hauls by road and the direction of traffic by the NTA complete the nationalisation pattern.
In these immediate post-Hillhead days a Labour government looks unlikely. However, the industry should not sit back. To wait and see could be fatal.