Speed checks and tachs evidence
3rd April 1982
Page 17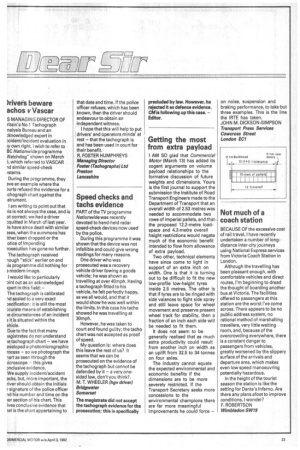 Page 17, 3rd April 1982 —
Speed checks and tachs evidence
Close
PART of the TV programme Nationwide was recently devoted to hand-held radar speed-check devices now used by the police.
During this programme it was shown that the device was not infallible and could give wrong readings for many reasons.
One driver who was prosecuted was a recovery vehicle driver towing a goods vehicle; he was shown as travelling at over 40mph. Having a tachograph fitted to his vehicle, he felt perfectly happy, as we all would, and that it would show he was well within the limits. In this case his tacho showed he was travelling at 30mph.
However, he was taken to court and found guilty; the tacho chart was not accepted as proof of speed.
My question is: where does this leave the rest of us? It seems that we can be prosecuted on the evidence of the tachograph but cannot be defended by it — a very onesided law, don't you think?. M. T. WHEELER (hgv driver) Bridgwater Somerset The magistrate did not accept the tachograph evidence for the prosecution; this is specifically precluded by law. However, he rejected it as defence evidence. CM is following up this case. — Editor.