OBIN ORBELL has taken over s traffic manager of the
3rd April 1982
Page 15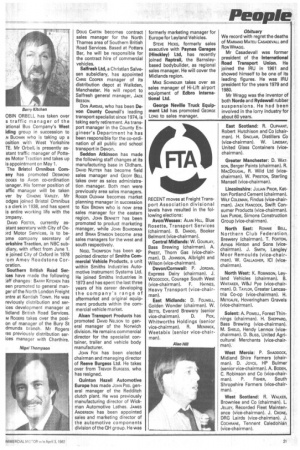 Page 15, 3rd April 1982 —
OBIN ORBELL has taken over s traffic manager of the
Close
ational Bus Company's West iding group in succession to .N BUCHAN who is taking up a osition with West Yorkshire TE. Mr Orbell.• is presently asstant traffic manager of Pottees Motor Traction and takes up is appointment on May 1.
The Bristol Omnibus Cornany has promoted DESMOND ODGES to Avon co-ordination lanager. His former position of affic manager will be taken ver by GRAEME VARLEY. Mr odges joined Bristol Omnibus s a clerk in 1938, and has spent is entire working life with the mpany.
DAVID FOSTER, Currently asistant secretary with City of Ox)rd Motor Services, is to beme company secretary of orkshire Traction, an NBC subidiary, with effect from June 1.
joined City of Oxford in 1978 'orn Amey Roadstone Cororation.
Southern British Road Serices have made the following taff changes: BARRY KITCHEN has een promoted to general manger of the North London Freight entre at Kentish Town. He was reviously distribution and serices development manager at lidland British Road Services. IM ROGERS takes over the posion of manager of the Bury St dmunds branch. Mr Rogers • ras previously distribution serices manager with Charthire.
Doug CAFrnN becomes contract sales manager for the North Thames area of Southern British Road Services. Based at Potters Bar, he will be responsible for the contract hire of commercial vehicles.
Salfresh Ltd, a Christian Salvesen subsidiary, has appointed CHRIS COOPER manager of its distribution depot at Walkden, Manchester. He will report to Salfresh general manager, JACK BEESON, DON AWDAS, who has been Devon County Council's leading transport specialist since 1974, is taking early retirement. As transport manager in the County Engineer's Department he has been responsible for the co-ordination of all public and school transport in Devon.
Seddon Atkinson has made the following staff changes at its manufacturing base in Oldham. DAVID NurrEa has become field sales manager and GEOFF BELL takes over as sales administration manager. Both men were previously area sates managers. ROGER OLDHAM becomes market planning manager in succession to KEN BROWN who is now area sales manager for the eastern region. JOHN BENNETT has been promoted to product marketing manager, while JOHN BOARDMAN and BRIAN STIMSON become area sales managers for the west and south respectively.
NIGEL THOMPSON has been appointed director of Smiths Commercial Vehicle Products, a unit within Smiths Industries Automotive Instrument Systems Ltd. He joined Smiths Industries in 1973 and has spent the last three years of his career developing the company's range of aftermarket and original equipment products within the commercial vehicle market.
Alcan Transport Products has promoted DAVID NELSON to general manager of the Norwich division. He remains commercial director for the specialist container, trailer and vehicle body manufacturer.
JOHN Fox has been elected chairman and managing director of Reeve Burgess Ltd. He takes over from TREVOR BURGESS, who has resigned.
Quinton Hazel! Automotive Europe has made JOHN PEEL general manager of the Redditch clutch plant. He was previously manufacturing director of Wickman Automotive Lathes. JAMES ANDERSON has been appointed sales and marketing director of the automotive components division of the OH group. He was
formerly marketing manager for Europe for Leyland Vehicles.
STEVE HICKS, formerly sales executive with Paynes Garages (Hinckley) Ltd, has recently joined Reptrall, the Barnsleybased bodybuilder, as regional sales manager. He will cover the Midlands region.
MIKE SCHINDLER takes over as sales manager of Hi-Lift airport equipment of Edbro International Ltd.
RECENT moves at Freight Transport Association divisional levels have resulted in the following elections:
Avon/Wessex: ALAN HILL, Blue Rosette, Transport Services (chairman). B. DANDO, Booker Belmont (vice-chairman).
Central Midlands: W. GOURLAY, Bass Brewing (chairman). A. PRIEST, Thorn Gas (vice-chairman). D. JOHNSON, Albright and Wilson (vice-chairman).
Devon/Cornwall: P. JORDAN, Express Dairy (chairman). J. WOODCOCK, Courage South West (vice-chairman). F. HAYNES, Heavy Transport (vice-chairman).
East Midlands: D. FOLWELL, Golden Wonder (chairman), W. BE-rrs, Everard Brewery (senior vice-chairman). D. PICK, Whitworths Holdings (senior vice-chairman). R. MENINICK, Weetabix (senior vice-chairman). East Scotland: R. OLIPHANT, Robert Hutchison and Co (chairman). H. SINCLAIR, Distillers CO (vice-chairman). W. LINDSAY, United Glass Containers (vicechairman).
Greater Manchester: D. WATSON, Berger Paints (chairman). R. MACDOUGAL, R. Wild Ltd (vicechairman). W. PRESTON, Sterling Mansell (vice-chairman).
Lincolnshire: JULIAN PRIOR, Ketton Portland Cement (chairman). WILF COLEMAN, Findus (vice-chairman). JACK HANCOCK, Swift Consumer Products (vice-chairman). lAIN PURDIE, Simons Construction Group (vice-chairman).
North East: RONNIE BELL, Northern Club Federation Brewery (chairman). T. Fox-roN, Amos Hinton and Sons (vicechairman). J. SmrrH, Langley Moor Remoulds (vice-chairman). W. GALLAGHER, ICI (vicechairman).
North West: K. ROBINSON, Leyland Vehicles (chairman). B. WHITAKER, W&J Pye (vice-chairman). D. TAYLOR, Greater Lancestria Co-op (vice-chairman). H. METCALFE, Hoveringham Gravels (vice-chairman).
Solent: A. POWELL, Forest Thinnings (chairman). H. SHEPPARD, Bass Brewing (vice-chairman). M. SHIELD, Hendy Lennox (vicechairman). D. Buss, United Agricultural Merchants (vice-chairman).
West Marcia: P. SHADDOCK, Midland Shire Farmers (chairman). D. JOYCE, HP Bulmer (senior vice-chairman). A. BODEN, C. Robinson and Co (vice-chair man). P. FISHER, South Shropshire Farmers (vice-chairman).
West Scotland: FL WALKER, Brownlee and Co (chairman). L. JELLEY, Recorded Fleet Maintenance (vice-chairman). J. CRONE; DRG Lairds (vice-chairman). J. COCHRANE, Tennent Caledonian (vice-chairman).
Tags
People
:
Langley Moor Remoulds
,
NIGEL THOMPSON
,
DAVID FOSTER
,
Everard Brewery
,
JAMES ANDERSON
,
Agricultural Merchants
,
Pye
,
Thorn Gas
,
DESMOND ODGES
,
JOHN BENNETT
,
Leyland Vehicles
,
Cement
,
Shropshire Farmers
,
STEVE HICKS
,
Sterling Mansell
,
Hoveringham Gravels
,
Forest Thinnings
,
TREVOR BURGESS
,
ROGER OLDHAM
,
GEOFF BELL
,
MIKE SCHINDLER
,
JULIAN PRIOR
,
ALAN HILL
,
JOHN BOARDMAN
,
Tennent Caledonian
,
Wilson
,
DON AWDAS
,
OBIN ORBELL
,
BARRY KITCHEN
,
CHRIS COOPER
,
Dairy
,
Booker Belmont
,
JACK BEESON
,
BRIAN STIMSON
,
Golden Wonder
,
KEN BROWN
,
Quinton Hazel
,
JOHN PEEL
,
N BUCHAN
,
RONNIE BELL
,
Berger Paints
,
Bass Brewing
,
DAVID NELSON
,
Courage South West
,
Midland Shire Farmers