The first Dumpmaster
3rd April 1982
Page 14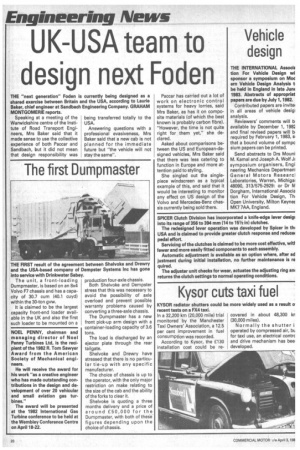 Page 14, 3rd April 1982 —
The first Dumpmaster
Close
THE FIRST result of the agreement between Shelvoke and Drewry and the USA-based company of Dempster Systems Inc has gone into service with Drinkwater Sabey.
The unit, a front-loading Dumpmaster, is based on an 8x4 Volvo F7 chassis and has a capacity of 30.7 cum (40.1 cuyd) within the 30-ton gvw.
It is claimed to be the largest capacity front-end loader available in the UK and also the first such loader to be mounted on a production four-axle chassis.
Both Shelvoke and Dempster stress that this was necessary to avoid the possibility of axle overload and prevent possible warranty problems caused by converting a three-axle chassis.
The Dumpmaster has a new front pick-up arm design with a container-loading capacity of 3.6 tons.
The load is discharged by an ejector plate through the rear tailgate.
Shelvoke and Drewry have stressed that there is no particular tie-up with any specific manufacturer.
The choice of chassis is up to the operator, with the only major restriction on make relating to the size of the cab and the ability of the forks to clear it.
Shelvoke is quoting a three months delivery and a price of around E50,000 for the Dumpmaster, with both of these figures depending upon the choice of chassis.