CK closes down and loses 0-licence
3rd April 1982
Page 13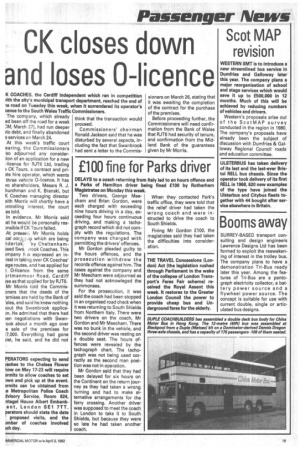 Page 13, 3rd April 1982 —
CK closes down and loses 0-licence
Close
Keywords :
K COACHES, the Cardiff independent which ran in competition rith the city's municipal transport department, reached the end of le road on Tuesday this week, when it surrendered its operator's pence to the South Wales Traffic Commissioners.
The company, which already ad been off the road for a week 7:M, March 27), had run deeper to debt, and finally abandoned s services on March 24.
At this week's traffic court earing, the Commissioners so adjourned any consider
ion an application for a new -licence for RJT6 Ltd, trading ; CK Tours, a contract and priate hire operator, which wants three vehicle 0-licence. It has vo shareholders, Messrs R. J. hurchman and K. Branski, but K Coaches managing director eith Morris will shortly have a mtrolling interest, the court as told.
In evidence, Mr Morris said at he would be personally res3nsible if CK Tours failed.
At pre«.44... Mr Morris holds cal cor, " ..(s which are being ridertak: by Cheltenham3sed Swa .irook Coaches. This )mpany h is expressed an inrest in taking over CK Coaches' age routes, and has applied for .1 0-licence from the same 3rtmanmoor Road, Cardiff ise as that applied for by RJT6. Mr Morris told the Commisoilers that the deeds of the .emises are held by the Bank of 'ales, and said he knew nothing out the Swanbrook applica)n. He admitted that there had :en negotiations with Swan.00k about a month ago over e sale of the premises for 7,000. Everything had gone 'let, he said, and he did not
think that the transaction would proceed.
Commissioners' chairman Ronald Jackson said that he was disturbed by several aspects, including the fact that Swanbrook had sent a letter to the Commis sioners on March 26, stating that it was awaiting the completion of the contract for the purchase of the premises.
Before proceeding further, the Commissioners will need confirmation from the Bank of Wales that RJT6 had security of tenure, and confirmation from the Midland Bank of the guarantees given by Mr Morris.