New Harris Hinos
3rd April 1982
Page 11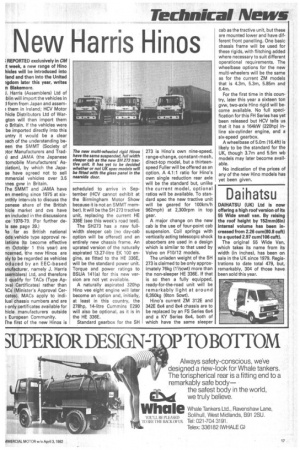 Page 11, 3rd April 1982 —
New Harris Hinos
Close
REPORTED exclusively in CM it week, a new range of Hino hides will be introduced into land and then into the United igdom later this year, writes 11 Blakemore.
J. Harris (Assemblers) Ltd of iblin will import the vehicles in form from Japan and assem: them in Ireland; HCV Motor hide Distributors Ltd of Wargton will then import them o Britain. If the vehicles were be imported directly into this untry it would be a clear aach of the understanding beeen the SMMT (Society of nor Manufacturers and Trad and JAMA (the Japanese rtomobile Manufacturers' Asciation), by which the Japese have agreed not to sell mmercial vehicles over 3.5 Ines gvw in Britain.
rhe SMMT and JAMA have en meeting since 1975 at six)nthly intervals to discuss the panese share of the British hide market and cvs have en included in the discussions ice 1978-79. (For further deIs see page 39.) ks far as British national ods vehicle type approval relations (to become effective im October 1 this year) are ncemed, 4he new Hinos are ely to be regarded as vehicles oduced by an EEC-based anufacturer, namely J. Harris ssemblers) Ltd, and therefore II qualify for TACs (Type Appval Certificates) rather than kCs' (Minister's Approval Cercates). MACs apply to indiilual chassis numbers and are a only certificates available for hide manufacturers outside a European Community.
the first of the new Hinos is scheduled to arrive in September (HCV cannot exhibit at the Birmingham Motor Show because it is not an SMMT member). It will be the SH 273 tractive unit, replacing the current HE 336E (see this week's road test).
The SH273 has a new fullwidth sleeper cab (no day-cab option will be offered) and an entirely new chassis frame. An uprated version of the naturally aspirated 13.27-litre EK 100 engine, as fitted to the HE 336E, will be the standard power unit. Torque and power ratings to BSUA 141(a) for this new version are not yet available.
A naturally aspirated 320hp Hino vee eight engine will later become an option and, initially, at least in this country, the 278hp, 14-litre Cummins E290 will also be optional, as it is in the HE 336E.
Standard gearbox for the SH 273 is Hino's own nine-speed, range-change, constant-mesh, direct-top model, but a thirteenspeed Fuller will be offered as an option. A 4.1:1 ratio for Hino's own single reduction rear axle will be the standard but, unlike the current model, optional ratios will be available. To standard spec the new tractive unit will be geared for 100km/h 962mph) at 2,300rpm in top gear.
A major change on the new cab is the use of four-point cab suspension. Coil springs with vertically acting telescopic shock absorbers are used in a design which is similar to that used by Volvo on F10/12 models.
The unladen weight of the SH 273 is claimed to be only approximately 76kg (11/2cwt) more than the non-sleeper HE 336E. If that is so then a fully equipped, ready-for-the-road unit will be remarkably light at around 6,350kg (6ton 5cwt).
Hino's current ZM 312E and 342E 6x4 and 8x4 chassis are to be replaced by an FS Series 6x4 and a KY Series 8x4, both of which have the same sleeper cab as the tractive unit, but these are mounted lower and have different front panelling. One basic chassis frame will be used for these rigids, with flitching added where necessary to suit different operational requirements. The wheelbase options for the new multi-wheelers will be the same as for the current ZM models that is 4.3m, 5.3m, 5.85m and 6.4m.
For the first time in this country, later this year a sixteen ton gvw, two-axle Hino rigid will become available. No full specification for this FH Series has yet been released but HCV tells us that it has a 164kW (220hp) inline six-cylinder engine, and a six-speed gearbox.
A wheelbase of 5.0m (16.4ft) is likely to be the standard for the UK, though 3.7m and 5.5m wb models may later become available.
No indication of the prices of any of the new Hino models has yet been given.