Q We are farmers who carry most of our own produce
3rd April 1970
Page 61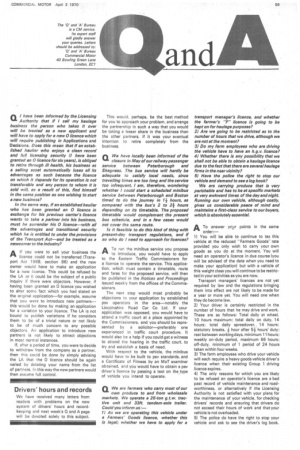 Page 61, 3rd April 1970 —
Q We are farmers who carry most of our own produce
Close
to and from wholesale markets. We operate a 26-ton g.t.w. tractive unit and 33ft, tandem-axle trailer. Could you inform us: 1) As we are operating this vehicle under a Farmers' Goods licence, whether this is legal; whether we have to apply for a
transport manager's licence, and whether the farmer's "F" licence is going to be kept on for haulage purposes?
2) Are we going to be restricted as to the number of hours that we drive, although we are not at the moment?
3) Do my farm employees who are driving the vehicle have to have an h.g.v. licence?
4) Whether there Is any possibility that we shall not be able to obtain a haulage licence due to the fact that there are several haulage firms in the near vicinity?
5) Have the police the right to stop our vehicle and demand to see a log book?
We are carrying produce that is vary perishable and has to be at specific markets at very awkward times of the day and night. Running our own vehicle, although costly, gives us considerable peace of mind and maintains a first-class service to our buyers, which is absolutely essential.
ATo answer ycicir points in the same order:
1) You will be able to continue to tax this vehicle at the reduced "Farmers Goods" rate provided you only wish to carry your own goods as you do at the moment. You will need an operator's licence in due course (you will be advised of the date when you need to make your application) but with a vehicle of this weight class you will continue to be restricted in your activities as you are now.
Transport managers' licences are not yet required by law and the regulations bringing them into effect are not likely to be made for a year or more yet. You will need one when they do become law.
2) Your driver is certainly restricted in the number of hours that he may drive and work.
These are as follows: Total daily at wheel, 10 hours maximum: total daily on duty, 14 hours; total daily spreadover, 14 hours: statutory breaks, 4hour after 5-1hours' duty: rest between working days, minimum 11 hours: weekly on-duty period, maximum 66 hours; off-duty, minimum of 1 period of 24 hours taken within four weeks.
3) The farm employees who drive your vehicle will each require a heavy goods vehicle driver's licence when their existing Group 1 driving licence expires.
4) The only reasons for which you are likely to be refused an operator's licence are a bad past record of vehicle maintenance and road worthiness, or alternatively if the Licensing Authority is not satisfied with your plans for the maintenance of your vehicle, for checking drivers' records and ensuring that drivers do not exceed their hours of work and that your vehicle is not overloaded.
5) The police do have the right to stop your vehicle and ask to see the driver's log book.