Q I have been informed by the Licensing Authority that If
3rd April 1970
Page 61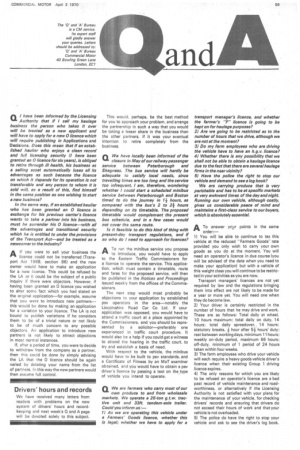 Page 61, 3rd April 1970 —
Q I have been informed by the Licensing Authority that If
Close
I sell my haulage business the person who takes it over will be treated as a new applicant and will have to apply for a new 0 licence which will require publishing in Applications and Decisions. Does this mean that if an established haulier who enjoys a clean record and full licensing security (I have been granted an 0 licence for six years), is obliged to retire through ill health, his business as a selling asset automatically loses all its advantages as such because the licence on which it depends for its operation Is not transferable and any person to whom it is sold will, as a result of this, find himsaff in the same position as one wishing to start a new business?
In the same way, if an established haulier who has been granted an 0 licence in exchange for his previous carrier's licence wants to take a partner into his business, must he surrender his 0 licence—with all the advantages and transitional security which he is entitled to under the provisions of the Transport Act—and be treated as a newcomer to the industry?
AIf you were to sell your business the
licence could not be transferred (Transport Act 1968, section 86) and the new owner would have to make an application for a new licence. This could be refused by the LA or it could be the subject of a public inquiry if there were objectors. However, if having been granted an 0 licence you wished to alter some fact which you had stated on the original application—for example, assume that you were to introduce new partners— this would be done by making an application for a variation to your licence. The LA is not bound to publish variations if he considers them to be of a trivial nature or not likely to be of much concern to any possible objectors. An application to introduce new partners is not likely to attract objections in most normal instances.
If, after a period of time, you were to decide to withdraw from the company as a partner, then this could be done by simply advising the LA that the 0 licence should be again varied by deleting your name from the list of partners. In this way the new partners would then assume full control. This would, perhaps, be the best method for you to approach your problem, and arrange the partnership in such a way that you would be taking a lesser share in the business than the other partners, if it was your eventual intention to retire completely from the business.