bird's eye view
3rd April 1970
Page 50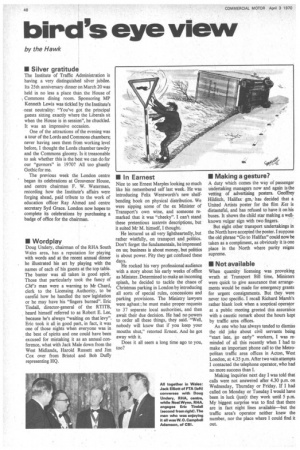 Page 50, 3rd April 1970 —
bird's eye view
Close
by the Hawk I Silver gratitude
The Institute of Traffic Administration is having a very distinguished silver jubilee. Its 25th anniversary dinner on March 20 was held in no less a place than the House of , Commons dining room. Sponsoring MP Kenneth Lewis was tickled by the Institute's neat neutrality: "You've got the principal guests sitting exactly where the Liberals sit when the House is in session", he chuckled. It was an impressive occasion.
One of the attractions of the evening was a tour of the Lords and Commons chambers; never having seen them from working level before, I thought the Lords chamber tawdry and the Commons gloomy. Is it treasonable to ask whether this is the best we can do for our "guvnors" in 1970? All too ghastly Gothic for me.
The previous week the London centre began its celebrations at Grosvenor House, and centre chairman F. W. Waterman, redording how the Institute's affairs were forging ahead, paid tribute to the work of education officer Ray Ahmed and centre secretary Syd Grace. London now hopes to complete its celebrations by purchasing a badge of office for the chairman.
• Wordplay
Doug Undery, chairman of the RHA South Wales area, has a reputation for playing with words and at the recent annual dinner he illustrated his art by playing with the names of each of his guests at the top table. The banter was all taken in good spirit. Those that particularly took the fancy of CM's man were a warning to Mr Chard, clerk to the Licensing Authority, to be carefUl how he handled the new legislation or he may have his "fingers burned". Eric Tindall, director-general of the RTITB, heard himself referred to as Robert E. Lee, because he's always "waiting on that levy". Eric took it all in good part, in fact, it was one of those nights when everyone was in the best of spirits and one could have been excused for mistaking it as an annual conference, what with Jack Male down from the West Midlands, Harold Russett and Jim Cox over from Bristol and Bob Duffy representing HQ.
• In Earnest
Nice to see Ernest Marples looking so much like his remembered self last week. He was introducing Felix Wentworth's new shelfbending book on physical distribution. We were sipping some of the ex Minister of Transport's own wine, and someone remarked that it was "cheeky". I can't stand these pretentious tastevin descriptions, but it suited Mr M. himself, I thought.
He lectured us all very lightheartedly, but rather wistfully, on transport and politics. Don't forget the fundamentals, he impressed on us; business is about money, but politics is about power. Pity they get confused these days.
He rocked his very professional audience with a story about his early weeks of office as Minister. Determined to make an incoming splash, he decided to tackle the chaos of Christmas parking in London by introducing all sorts of special rules, concessions and parking provisions. The Ministry lawyers were aghast ; he must make proper requests to 37 separate local authorities, and then await their due decision. He had no powers to order all these things, they said. "Well, nobody will know that if you keep your mouths shut," retorted Ernest. And he got away with it.
Does it all seem a long time ago to you, too?
• Making a gesture?
A duty which comes the way of passenger undertaking managers now and again is the vetting of advertising posters. Geoffrey Hilditch, Halifax gm, has decided that a United Artists poster for the film Kes is distasteful, and has refused to have it on his buses. It shows the child star making a wellknown vulgar sign with two fingers.
But eight other transport undertakings in the North have accepted the poster. I suppose the old phrase "Go to Halifax" could now be taken as a compliment, as obviously it is one place in the North where purity reigns supreme.
• Not available
When quantity licensing was provoking wrath at Transport Bill time, Ministers were quick to give assurance that arrangements would be made for emergency grants for urgent consignments. But they were never too specific. I recall Richard Marsh's rather blank look when a sceptical operator at a public meeting greeted this assurance with a caustic remark about the hours kept by traffic area offices.
As one who has always tended to dismiss the old joke about civil servants being "start late, go early" workers, I was reminded of all this recently when I had to make an important phone call to the Metropolitan traffic area offices in Acton, West London, at 4.35 p.m. After two vain attempts I contacted the telephone operator, who had no more success than I.
Making inquiries next day I was told that calls were not answered after 4.30 p.m. on Wednesday, Thursday or Friday. If I had called on Monday or Tuesday I would have been in luck (just): they work until 5 p.m. My biggest surprise was to find that there are in fact night Lines available—but the traffic area's operator neither knew the number, nor the place where I could find it out.
Tags
People
:
Jim Cox
,
Richard Marsh
,
Robert E. Lee
,
Eric Tindall
,
Bristol Duffy
,
Chard
,
Felix Wentworth
,
Jack Male
,
Harold Russett
,
Ray Ahmed
,
F. W. Waterman
,
Syd Grace
,
Bob Duffy
,
Geoffrey Hilditch
,
Wordplay Doug Undery
,
Ernest Marples
,
Kenneth Lewis