We're back
3rd April 1970
Page 49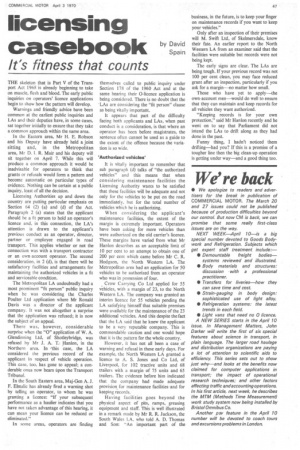 Page 49, 3rd April 1970 —
We're back
Close
• We apologize to readers and advertisers for the break in publication of COMMERCIAL MOTOR. The March 20 and 27 issues could not be published because of production difficulties beyond our controL But now CM is back, we can promise that some really first-class issues are on the way.
NEXT WEEK—April 10—is a big special number devoted to Goods Body work and Refrigeration. Subjects which get expert staff treatment include:— • Demountable freight bodies— systems reviewed and illustrated.
• Body materials and structures: discussion 'with a professional practitioner.
• Transfers for liveries—how they can save time and cost.
• Strain-gauging in body design: sophisticated use of light alloy.
• Refrigeration systems: the latest trends in each field.
• Light vans that need no 0 licence.
A NEW SERIES starts in the April 10 issue. In Management Matters, John Darker will write the first of six special features about science in transport, in plain language. The larger road haulage and distribution organizations are paying a lot of attention to scientific aids to efficiency. This series sets out to show just why—and looks at the benefits now claimed for computer applications in transport; the impact of operational research techniques; and other factors affecting traffic and accounting operation& In his first article, next week he describes the MTM (Methods Time Measurement) work study system now being installed by Bristol Omnibus Co.
Another ps-v feature in the April 10 number will be devoted to coach tours and excursions problems in London.