What safeguards
3rd April 1970
Page 42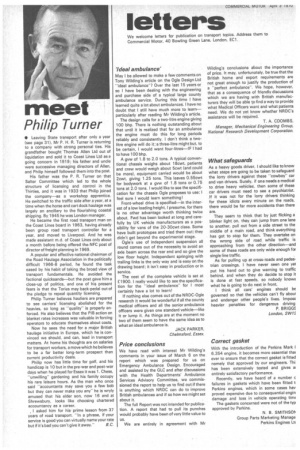 Page 42, 3rd April 1970 —
What safeguards
Close
As a heavy goods driver, I should like to know what steps are going to be taken to safeguard the lorry drivers against these "cowboy" car and van drivers. Surely, if one needs a medical to drive heavy vehicles, then some of these car drivers must need to see a psychiatrist. If it was not for the lorry drivers thinking for these idiots every minute on the roads, there would be far more accidents than there are.
They seem to think that by just flicking a blinker light on, they can jump from one lane to another, pull out from a side street to the middle of a main road, and think everything has got to stop for them. They overtake on the wrong side of road while traffic is approaching from the other direction—and some of these roads are only wide enough for single line traffic.
As for pulling up at cross-roads and pedestrian crossings, I have never seen one yet put his hand out to give warning to traffic behind, and when they do decide to stop it is done at fast speeds, so nobody knows what he is going to do next in front.
I think all cars' engines should be governed so that the vehicles can't fly about and endanger other people's lives. ImposE heavier penalties for dangerous driving P. BRIGGE London, SW1.