meet
3rd April 1970
Page 42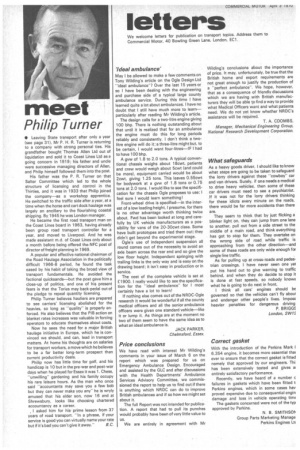 Page 42, 3rd April 1970 —
meet
Close
Philip Turner
• Leaving State transport after only a year (see page 31). Mr P. H. R. Turner is returning to a company with strong personal ties. His grandfather bought Thomas Allen Ltd out of liquidation and sold it to Coast Lines Ltd as a going concern in 1919; his father and uncle were successive managing directors of Allen, and Philip himself followed them into the post.
His father was the P. R. Turner on that Salter Committee which led to the whole structure of licensing and control in the Thirties, and it was in 1933 that Philip joined the company—as a workshop apprentice. He switched to the traffic side after a year, at a time when the horse and cart dock haulage was largely an ancillary to the flourishing coastal shipping. By 1945 he was London manager.
He became the first road transport man on the Coast Lines board in 1963, having already been group road transport controller for a year, and moved to Liverpool. And he was made assistant m.d. of Coast Lines only about a month before being offered the NFC post of director of freight planning in 1969.
A popular and effective national chairman of the Road Haulage Association in the politically difficult 1966-8 period, he found the task eased by his habit of taking the broad view of transport fundamentals. He avoided the factional quicksands—but the post gave him a close-up of politics, and one of his present fears is that the Tories may back-pedal out of the pledge to repeal quantity licensing.
Philip Turner believes hauliers are prepared to see carriers' licensing abolished for the heavies, so long as "quality" is properly enforced. He also believes that the P1B action on blanket rates increases was valuable in forcing operators to educate themselves about costs.
Now he sees the need for a major British haulage initiative in Europe, which he is convinced we should, and can, lead in transport matters. At home his thoughts are on salaries for transport workers, a move which he believes to be a far better long-term prospect than current productivity deals.
Philip now has little time for golf, and his handicap is 10 but in the pre-war and post-war days when he played for Essex it was 1. Chess, "unwilling" gardening and his family occupy his rare leisure hours. As the man who once said "accountants may save you a few bob but they can never make you any" he is wryly amused that his elder son, now 16 and at Shrewsbury, looks like choosing chartered accountancy as a career.
, I asked him for his prime lesson from 37 years of road transport. "In a phrase, if your service is good you can virtually name your rate but if it's bad you can't give it away." B.C.