Vehicle scheduling scheme
3rd April 1970
Page 41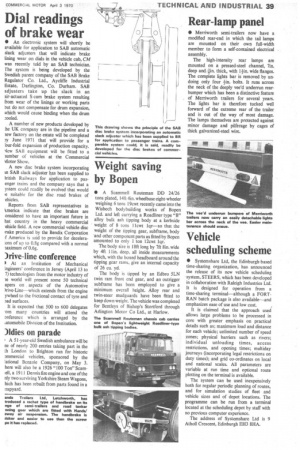 Page 41, 3rd April 1970 —
Vehicle scheduling scheme
Close
• Systemshare Ltd, the Edinburgh-based time-sharing organization, has announced the release of its new vehicle scheduling • system, STEERS, which has been developed in collaboration with Raleigh Industries Ltd. It is designed for operation from a time-sharing terminal—although a FORTRAN batch package is also available—and emphasizes ease of use and low cost.
It is claimed that the approach used allows large problems to be processed in core with greater emphasis on practical details such as; maximum load and distance for each vehicle; unlimited number of speed zones; physical barriers such as rivers; individual unloading times, access restrictions, and opening times; multiday journeys (incorporating legal restrictions on duty times); and grid co-ordinates on local and national scales. All parameters are variable at run time and optional route plotting on the terminal is available.
The system can be used inexpensively both for regular periodic planning of routes, and for simulation studies of fleet and vehicle sizes and of depot locations. The programme can be run from a terminal located at the scheduling depot by staff with no previous computer experience.
The address of Systemshare Ltd is 9 Atholl Crescent, Edinburgh EH3 8HA.