Dial readings
3rd April 1970
Page 41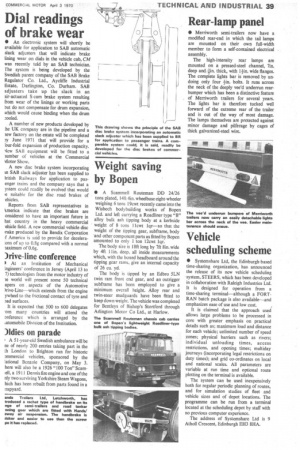 Page 41, 3rd April 1970 —
Dial readings
Close
of brake wear • An electronic system will shortly be available for application to SAB automatic slack adjusters that will indicate brake lining wear on dials in the vehicle cab, CM was recently told by an SAB technician. The system is being developed by the Swedish parent company of the SAB Brake Regulator Co. Ltd., Aycliffe Industrial Estate, Darlington, Co. Durham. SAB adjusters take up the slack in an air-actuated S-cam brake system resulting from wear of the finings or working parts but do not compensate for drum expansion, which would cause binding when the drum
A number of new products developed by he UK company are in the pipeline and a iew factory on the estate will be completed ay June 1971 that will provide for a bur-fold expansion of production capacity. Vew SAB equipment will be fitted to a lumber of vehicles at the Commercial Vlotor Show.
A new disc brake system incorporating in SAB slack adjuster has been supplied to Iritish Railways for application to pasenger trains and the company says that a ystem could readily be evolved that would le suitable for the disc road brakes of .ehicles.
Reports from SAB representatives in kmerica indicate that disc brakes are :onsidered to have an important future in hat country in the heavy commercial • thicle field. A new commercial vehicle disc irake produced by the Bendix Corporation ,f America is said to provide for deceleraions of up to 0.8g compared with a normal raximum of 0.6g.
)rive-line conference
11 At an Institution of Mechanical trgineers' conference in Jersey (April 13 to 7) technologists from the motor industry of le world will present some 50 technical apers on aspects of the Automotive hive-Line which extends from the engine ywheel to the frictional contact of tyre and aad surfaces.
It is expected that 500 to 600 delegates .om many countries will attend the onferencc which is arranged by the Lutomobile Division of the Institution.
)1dies on parade
A 51-year-old Swedish ambulance will be ne of nearly 200 entries taking part in the th London to Brighton run for historic ammercial vehicles, sponsored by the fational Benzole Company, on May 3. here will also he a 1926 "100 Ton" Scamtell, a 1911 Dennis fire engine and one of the nly two surviving Yorkshire Steam Wagons, hich has been rebuilt from parts foUnd in a ;rapyard.