Surplus not sensible
3rd April 1970
Page 39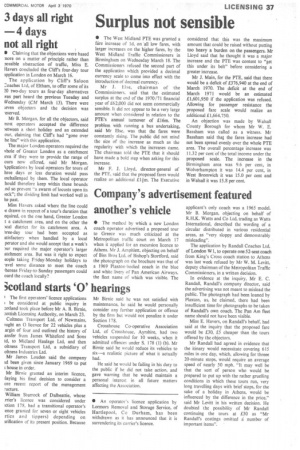 Page 39, 3rd April 1970 —
Surplus not sensible
Close
• The West Midland PTE was granted a fare increase of Id, on all low fares, with larger increases on the higher fares, by the West Midland Traffic Commissioners in Birmingham on Wednesday March 18. The Commissioners refused the second part of the application which provided a decimal currency scale to come into effect with the introduction of decimal currency.
Mr J. Else, chairman of the Commissioners, said that the estimated surplus at the end of the 1970/71 financial year of £62,000 did not seem commercially sensible. It did not appear to be a very large amount when considered in relation to the PTE's annual turnover of £16m. The problem With running a bus undertaking, said Mr Else, was that the fares were constantly rising. The public did not mind the size of the increase as much as the regularity with which the increases came. The chairman told the PTE that it should have made a bold step when asking for this increase.
Mr F. J. Lloyd, director-general of the PTE, said that the proposed fares would realize an additional £1-frn. The Executive considered that this was the maximum amount that could be raised without putting too heavy a burden on the passengers. Mr Lloyd said that he thought it was a major increase and the PTE was content to "get this under its belt" before considering a greater increase.
Mr J. Main, for the PTE, said that there would be a deficit of £376,940 at the end of March 1970. The deficit at the end of March 1971 would be an estimated £1,601,950 if the application was refused. Allowing for passenger resistance the proposed fare scale would realize an additional £1,664,750.
An objection was made by Walsall County Borough for whom Mr W. E. Bassham was called as a witness. Mr Bassham said that the fares increase had not been spread evenly over the whole PTE area. The overall percentage increase was 11.32 per cent of the total income under the proposed scale. The increase in the Birmingham area was 9.6 per cent, in Wolverhampton it was 14.4 per cent, in West Bromwich it was 15.0 per cent and in Walsall it was 15.8 per cent.