Company's advertisement featured another's vehicle
3rd April 1970
Page 39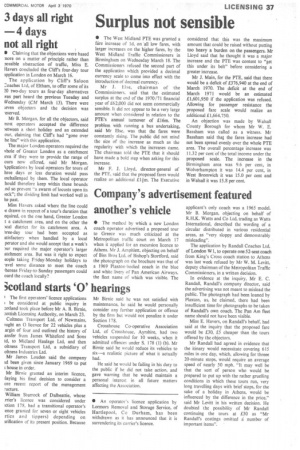 Page 39, 3rd April 1970 —
Company's advertisement featured another's vehicle
Close
• The method by which a new London coach operator advertised a proposed tour to Greece was much criticized at the Metropolitan traffic court on March 17 when it applied for an excursion licence to Athens. Mr J. Amphlett, objecting on behalf of Biss Bros Ltd, of Bishop's Stortford, said the photograph on the brochure was that of a 1969 Plaxton-hodied coach in the blue and white livery of Pan American Airways, the fleet name of which was visible. The applicant's only coach was a 1965 model. Mr B. Morgan, objecting on behalf of R.H.K. Watts and Co Ltd, trading as Watts International, described the wording of a circular distributed in various residential areas, as "very sloppy and demonstrably misleading".
The application by Randall Coaches Ltd, of London Wl, to operate one 52-seat coach from King's Cross coach station to Athens was last week refused by Mr W. M. Levitt, deputy chairman of the Metropolitan Traffic Commissioners, in a written decision.
In evidence at the inquiry, Mr E. C. Randall, Randall's company director, said the advertising was not meant to mislead the public. The photograph had been loaned by Plaxton, as, he claimed, there had been insufficient time for photographs to be taken of Randall's own coach. The Pan Am fleet name should not have been visible.
Miss E. Havers, on Randall's behalf, had said at the inquiry that the proposed fare would be £30, £5 cheaper than the tours offered by the objectors.
Mr Randall had agreed in evidence that the itinary would necessitate covering 615 miles in one day, which, allowing for threee 20-minute stops, would require an average speed of nearly 50 mph. "It may well be that the sort of person who would be prepared to put up with the rather gruelling conditions in which these tours run, very long travelling days with brief stops, for the sake of a holiday in Athens, would be influenced by the difference in the price," said Mr Levitt in his written decision. He doubted the possibility of Mr Randall continuing the tours at £30 as "Mr Randall's costings omitted 6. number of important items".