3cotland starts '0' hearings
3rd April 1970
Page 39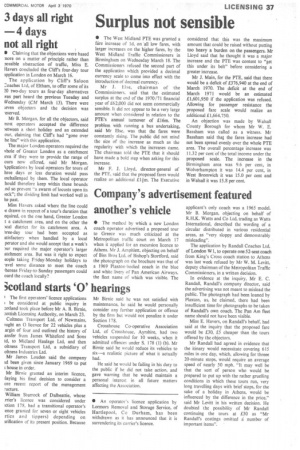 Page 39, 3rd April 1970 —
3cotland starts '0' hearings
Close
I The first operators' licence applications be considered at public inquiry in Dotland took place before Mr A. B. Birnie, aottish Licensing Authority, on March 23. Coltness Transport Ltd, of Newmains, iught an 0 licence for 22 vehicles plus a argin of four and outlined the history of ansfer from James Whiteford and Sons Id, to Midland Haulage Ltd, and then oltness Transport Ltd, a subsidiary of oltness Industries Ltd.
Mr James Louden said the company id been given since January 1969 to put house in order.
Mr Birnie granted an interim licence, :laying his final decision to consider a ore recent report of the management 7ucture.
William Sturrock of Dalbeattie, whose .rrier's licence was considered under iction 178, had a transitional operator's ence granted for seven or eight vehicles rtics and tippers) depending on irification of its present position. Because Mr Birnie said he was not satisfied with maintenance, he said he would personally consider any further application or offence by the firm but would not penalize it under Section 178.
Crosshouse Co-operative Association Ltd, of Crosshouse, Ayrshire, had two Vehicles suspended for 10 weeks, when it admitted offences under S. 178 (1) (b). Mr Birnie said he would reduce its vehicles to six—a realistic picture of what it actually had.
He said he would be failing in his duty to the public if he did not take action, and gave warning that he would maintain a personal interest in all future matters affecting the Association.