Tribunal decides on bloodstock Cross
3rd April 1970
Page 34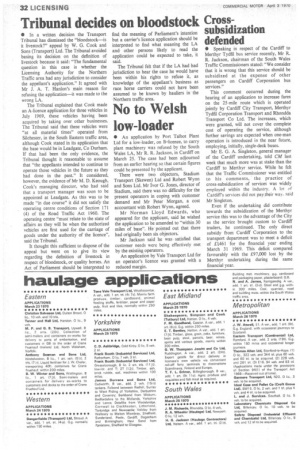 Page 34, 3rd April 1970 —
Tribunal decides on bloodstock Cross
Close
• In a written decision the Transport Tribunal has dismissed the "bloodstock—is it livestock?" appeal by W. G. Cook and Sons (Transport) Ltd. The Tribunal avoided basing its decision on the definition of livestock because it said: "The fundamental question in this case is whether the Licensing Authority for the Northern Traffic area had any jurisdiction to consider the appellant's application." It agreed with Mr J. A. T. Hanlon's main reason for refusing the application—it was made to the wrong LA.
The Tribunal explained that Cook made an A-licence application for three vehicles in July 1969, these vehicles having been acquired by taking over other businesses. The Tribunal said that these vehicles were "at all material times" operated from Silchester, in the South Eastern traffic area, although Cook stated in its application that the base would be in Leadgate, Co Durham. If that had been the only evidence, the Tribunal thought it reasonable to assume that "the appellants intended to continue to operate those vehicles in the future as they had done in the past." It considered, however, the evidence of Mr M. D. Keough, Cook's managing director, who had said that a transport manager was soon to be appointed at Leadgate. As this was to be made "in due course" it did not satisfy the operating centre conditions of Section 171 (4) of the Road Traffic Act 1960. The operating centre "must relate to the state of affairs as they will be when the authorized vehicles are first used for the carriage of goods under the authority of the licence", said the Tribunal.
It thought this sufficient to dispose of the appeal but went on to give its view regarding the definition of livestock in respect of bloodstock, or quality horses. An Act of Parliament should be interpreted to find the meaning of Parliament's intention but a carrier's licence application should be interpreted to find what meaning the LA and other persons likely to read the application could be expected to take, it said.
The Tribunal felt that if the LA had had jurisdiction to hear the case he would have been within his rights to refuse it, as knowledge of the appellant's business as race horse carriers could not have been assumed to be known by hauliers in the -Northern traffic area.