subsidization defended
3rd April 1970
Page 34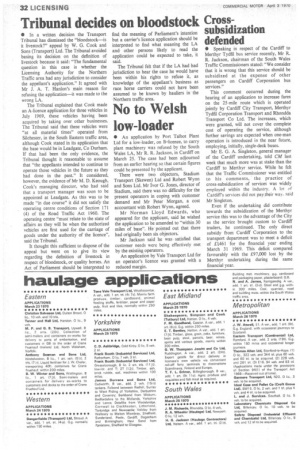 Page 34, 3rd April 1970 —
subsidization defended
Close
• Speaking in respect of the Cardiff to Merthyr Tydfil bus service recently, Mr R. R. Jackson, chairman of the South Wales Traffic Commissioners stated: "We consider that it is wrong that this service should be subsidized at the expense of other passengers on Cardiff Corporation bus services."
This comment occurred during the hearing of an application to increase fares on the 25-mile route which is operated jointly by Cardiff City Transport, Merthyr Tydfil Corporation Transport and Rhondda Transport Co Ltd. The increases, which were granted, will not cover the complete cost of operating the service, although further savings are expected when one-man operation is introduced in the near future, employing, initially, single-deck buses.
Mr E. G. A. Singleton, general manager of the Cardiff undertaking, told CM last week that much more was at stake than the Cardiff to Merthyr service. While he felt that the Traffic Commissioner was entitled to his comments, the practice of cross-subsidization of services was widely employed within the industry. A lot of Cardiff's services did not pay,their wav. said Mr Singleton.
Even if the undertaking did contribute towards the subsidization of the Merthyr service this was to the advantage of the City as the service brought custom to Cardiff traders, he continued. The only direct subsidy from Cardiff Corporation to the transport department was to meet a deficit of £1.461 for the financial year ending March 31 1969. This deficit compared favourably with the £97,000 lost by the Merthyr undertaking during the same financial year.