Why Philip Turner is leaving the NFC
3rd April 1970
Page 33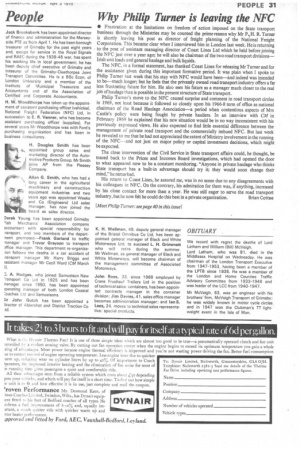 Page 33, 3rd April 1970 —
Why Philip Turner is leaving the NFC
Close
• Frustration at the limitations on freedom of action imposed on the State transport business through the Ministries may be counted the prime reason why Mr P.,14, R. Turner is shortly leaving his post as director of freight planning of the National Freight Corporation. This became clear when I interviewed him in London last week. He is returning to the post of assistant managing director of Coast Lines Ltd which he held before joining the NFC just over a year ago; he will also be chairman of the two road transport divisions— Irish unit loads and general haulage and bulk liquids.
The NFC. in a formal statement, has thanked Coast Lines for releasing Mr Turner and for the assistance given during this important formative period. It was plain when I spoke to Philip Turner last week that his stay with NFC would have been—and indeed was intended to be—much longer; but he feels that the privately owned road transport industry offers a far less frustrating future for him. He also sees his future as a manager much closer to the real job of haulage than is possible in the present structure of State transport.
Philip Turner's move to the NFC caused surprise and comment in road transport circles in 1969, not least because it followed so closely upon his 1966-8 term of office as national chairman of the Road Haulage Association—a period when contentious aspects of Mrs Castle's policy were being fought by private hauliers. In an interview with CM in February 1969 he explained that his new situation would be in no way inconsistent with his previously expressed views. He also expected to find little essential difference between the management of private road transport and the commercially imbued NFC. But last week he revealed to me that he had not appreciated the extent of Ministry involvement in the running
of the NFC and not just on major policy or capital investment decisions, which might be expected.
The close intervention of the Civil Service in State transport affairs could, he thought, be traced back to the Prices and Incomes Board investigations, which had opened the door to what appeared now to be a constant monitoring. "Anyone in private haulage who thinks State transport has a built-in advantage should try it; they would soon change their mind," he remarked.
His return to Coast Lines, he assured me, was in no sense due to any disagreements with his colleagues in NFC. On the contrary, his admiration for them was, if anything, increased by his close contact for more than a year. He was still eager to serve the road transport industry, but he now felt he could do this best in a private organization. Brian Cottee
[Meet Philip Turner: see page 40 in this issue]