NEWS IN BRIEF
3rd April 1970
Page 32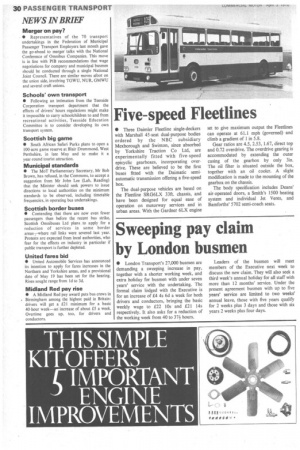 Page 32, 3rd April 1970 —
NEWS IN BRIEF
Close
Merger on pay?
• Representatives of the 70 transport undertakings in the Federation of Municipal Passenger Transport Employers last month gave the go-ahead to merger talks with the National Conference of Omnibus Companies. This move is in line with PIB recommendations that wage negotiations for company and municipal busmen should be conducted through a single National Joint Council. There are similar moves afoot on the union side, involving TGWU. NUR, GMWU and several craft unions.
Schools own transport I Following an intimation from the Teesside Corporation transport department that the effects of drivers' hours regulations might make it impossible to carry schoolchildren to and from recreational activities, Teesside Education Committee is to consider developing its own transport system.
Scottish big game
• South African Safari Parks plans to open a 100-acre game reserve at Blair Drummond, West Perthshire, in late May and to make it a year round tourist attraction.
Municipal standards
• The MoT Parliamentary Secretary, Mr Bob Brown, has refused, in the Commons, to accept a suggestion from Mr John Lee (Lab, Reading) that the Minister should seek powers to issue directions to local authorities on the minimum standards to be observed, including timetable frequencies, in operating bus undertakings.
Scottish border buses • Contending that there are now even fewer passengers than before the recent bus strike. Scottish Omnibuses Ltd plans to apply for a reduction of services in some border areas-7-where rail links were severed last year. Protests are expected from local authorities, who fear for the effects on industry in particular if public transport is further depleted.
United fares bid
• United Automobile Services has announced its intention to apply for fares increases in the Northern and Yorkshire areas, and a provisional date of May 19 has been set for the hearing. Rises sought range from Id to 3d.
Midland Red pay rise
• A Midland Red pay award puts bus crews in
. Birmingham among the highest paid in Britain: drivers will get a £21 minimum for a basic 40-hour week—an increase of about £5 a week. Overtime goes up, too, for drivers and conductors.