Five-speed Fleetlines
3rd April 1970
Page 32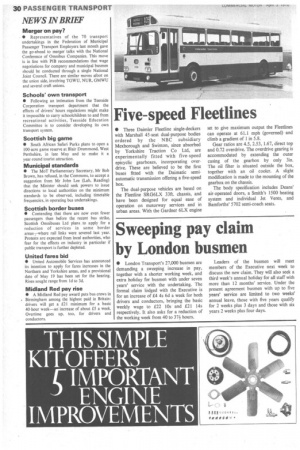 Page 32, 3rd April 1970 —
Five-speed Fleetlines
Close
• Three Daimler Fleetline single-deckers with Marshall 45-seat dual-purpose bodies ordered by the NBC subsidiary Mexborough and Swinton, since absorbed by Yorkshire Traction Co Ltd, are experimentally fitted with five-speed epicyclic gearboxes, incorporating overdrive. These are believed to be the first buses fitted with the Daimatic semiautomatic transmission offering a five-speed box.
The dual-purpose vehicles are based on the Fleetline SRG6LX 33ft. chassis, and have been designed for equal ease of operation on motorway services and in urban areas. With the Gardner 6LX engine set to give maximum output the Fleetlines can operate at 61.1 mph (governed) and climb a gradient of 1 in 5.8.
Gear ratios are 4.5, 2.53, 1.67, direct top and 0.72 overdrive. The overdrive gearing is accommodated by extending the outer casing of the gearbox by only 3in. The oil filter is situated outside the box, together with an oil cooler. A slight modification is made to the mounting of the gearbox on the chassis.
The body specification includes Deans' air-operated doors, a Smith's 1500 heating system and individual Jet Vents, and Bamforths' 5702 semi-coach seats.