Midland Red buys Fords
3rd April 1970
Page 31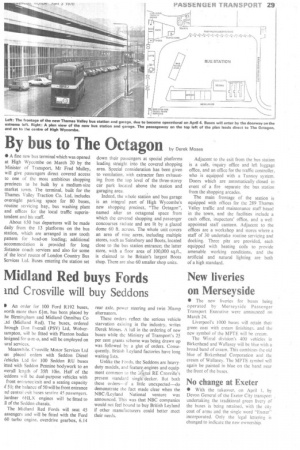 Page 31, 3rd April 1970 —
Midland Red buys Fords
Close
ind Crosville will buy Seddons
An order for 100 Ford 1(192 buses, vorth more than iirn, has been placed by he Birmingham and Midland Omnibus Co :Ad (Midland Red). The buses, ordered hrough Don Everall (PSV) Ltd, Wolvertampton, will be fitted with Plaxton bodies lesigned for o-m-o, and will be employed on ural services.
Meanwhile. Crosville Motor Services Ltd as placed orders with Seddon Diesel /chides Ltd for 100 Seddon RU buses itted with Seddon Pennine bodywork to an iverall length of 3511 10in. Half of the eddons will be dual-purpose vehicles with front entrance/exit and a seating capacity if 51; the balance of 50 will be front entrance nd central exit buses seating 45 passengers. lardner 61-ILX engines will be fitted to 11 of the Seddon chassis.
The Midland Red Fords will seat 45 assengers and will be fitted with the Ford 60 turbo engine, overdrive gearbox, 6.14 rear axle, power steering and twin 30amp alternators.
These orders reflect the serious vehicle starvation existing in the industry, writes Derek Moses. A lull in the ordering of new buses while the Ministry of Transport's 25 per cent grants scheme was being drawn up was followed by a glut of orders. Consequently. British 1,eyland factories have long waiting lists.
Unlike the Fords, the .Seddons are heavyduty models, and feature-engines and equipment common to the Af:?tol RE Crosville's present standard singIe decker. But both these orders—if a little unexpected—do demonstrate the fact made clear when the NBC /Leyland National venture was announced. This was that NBC companies would not feel bound to buy British Leyland if other manufacturers could better meet their needs.