Radio control for London coach pool
3rd April 1970
Page 30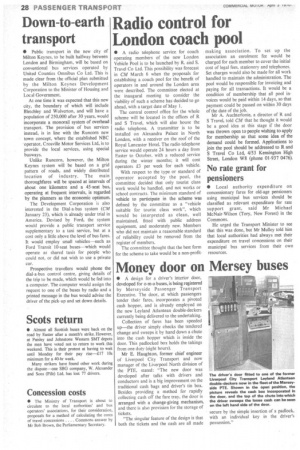 Page 30, 3rd April 1970 —
Radio control for London coach pool
Close
Keywords :
• A radio telephone service for coach operating members of the new London Vehicle Pool is to be launched by R. and S. Travel Co Ltd. This possibility was forecast in CM March 6 when the proposals for establishing a coach pool for the benefit of operators in and around the London area were described. The committee elected at the inaugural meeting to consider the viability of such a scheme has decided to go ahead, with a target date of May I.
The central control office for the whole scheme will be located in the offices of R and S Travel, which will also house the radio telephone. A transmitter is to be installed on Alexandra Palace in North London, with a receiver on the roof of the Royal Lancaster Hotel. The radio-telephone service would operate 24 hours a day from Easter to October, with a reduced service during the winter months; it will cost operators £3 per week for each vehicle.
With respect to the type or standard of operator accepted by the pool, the committee decided that only tourist class work would be handled, and not works or school contracts. The minimum standard of vehicle to participate in the scheme was defined by the committee as a "vehicle suitable for tourist class work", which would be interpreted as clean, well maintained, fitted with public address equipment, and moderately new. Members who did not maintain a reasonable standard of reliability could be removed from the register of members.
The committee thought that the best form for the scheme to take would be a non-profit making association. To set up the association an enrolment fee would be charged for each member to cover the initial cost of legal fees, stationery and telephones. Set charges would also be made for all work handled to maintain the administration. The pool would be responsible for invoicing and paying for all transactions. It would be a condition of membership that all pool invoices would be paid within 14 days, so that payment could be passed on within 30 days of the date of the job.
Mr A. Auchterlonie, a director, of R and S Travel, told CM that he thought it would be a good idea at this stage if the door was thrown open to people wishing to apply for membership so that some idea of the demand could be formed. Applications to join the pool should be addressed to R and S Travel Co Ltd, 4/53 Kensington High Street, London W8 (phone 01-937 0476).