Down-to-earth transport
3rd April 1970
Page 30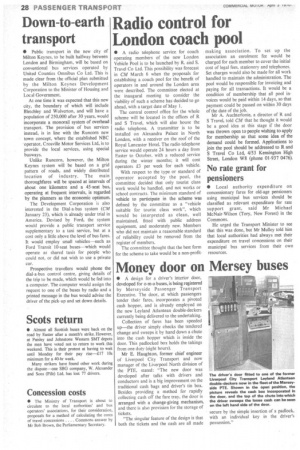 Page 30, 3rd April 1970 —
Down-to-earth transport
Close
• Public transport in the new city of Milton Keynes, to be built halfway between London and Birmingham, will be based on conventional bus services operated by United Counties Omnibus Co Ltd. This is made clear from the official plan submitted by the Milton Keynes Development Corporation to the Minister of Housing and Local Government.
At one time it was expected that this new city, the boundary of which will include Bletchley and Wolverton, and will have a population of 250,000 after 30 years, would incorporate a monorail system of overhead transport. The provision of bus services instead, is in line with the Runcorn new town concept, where the established NBC 'operator, Crosville Motor Services Ltd, is to provide the local services, using special busways.
Unlike Runcorn, however, the Milton Keynes system will be based on a grid pattern of roads, and widely distributed location of industry. The main thoroughfares will be spaced at intervals of about one kilometre and a 45-seat bus, operating at frequent intervals, is regarded by the planners as the economic optimum. The Development Corporation is also interested in the Dial-a-bus system (CM
-January 23), which is already under trial in
America. Devised by Ford, the system would provide a public transport service supplementary to a taxi service, but at a cost only a little above the level of bus fares. It would employ small vehicles—such as
Ford Transit. 10-seat buses—which would operate as shared taxis for people who could not, or did not wish to use a private car.
Prospective travellers would phone the dial-a-bus control centre, giving details of the trip to be made, which would be fed into a computer. The computer would assign the request to one of the buses by radio and a printed message in the bus would advise the driver of the pick-up and set down details.