TDG optimistic
3rd April 1970
Page 28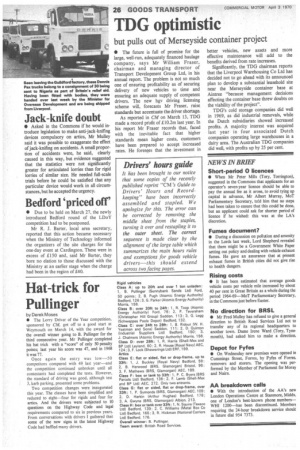 Page 28, 3rd April 1970 —
TDG optimistic
Close
but pulls out of Merseyside container project
• The future is full of promise for the large, well-run, adequately financed haulage company, says Mr William Fraser, chairman and managing director of Transport Development Group Ltd, in his annual report. The problem is not so much one of ensuring profitability as of securing delivery of new vehicles to time and ensuring an adequate supply of competent drivers. The new hgv driving licensing scheme will, forecasts Mr Fraser, raise standards but accentuate the driver shortage.
As reported in CM on March 13, TDG made a record profit of £10.2m last year. In his report Mr Fraser records that, faced with the inevitable fact that higher standards mean higher costs, customers have been prepared to accept increased rates. He foresees that the investment in better vehicles, new assets and more effective maintenance will add to the benefits derived from rate increases.
Significantly, the TDG chairman reports that the Liverpool Warehousing Co Ltd has decided not to go ahead with its announced plan to develop a substantial leasehold site near the Merseyside container base at Aintree "because management decisions affecting the container base threw doubts on the viability of the project".
TDG's cold storage companies did well in 1969, as did industrial removals, while the Dutch subsidiaries showed increased profits. A majority interest was acquired last year in four associated Dutch companies operating large warehouses in a dairy area. The Australian TDG companies did well, with profits up by 25 per cent.