NEWS IN BRIEF
3rd April 1970
Page 28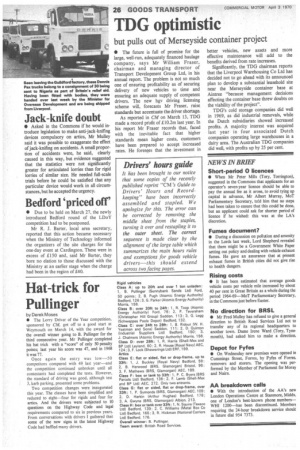 Page 28, 3rd April 1970 —
NEWS IN BRIEF
Close
Short-period 0 licences
• When Mr Peter Mills (Tory, Torrington), suggested in the Commons that applicants for an operator's seven-year licence should be able to pay the annual fee as it arose, to avoid tying up capital in advance, Mr Albert Murray, MoT Parliamentary Secretary, told him that no steps had been taken to ensure that this could be done, but an applicant could ask for shorter period of licence if he wished: this was at the LA's discretion.
Fumes document?
• During a discussion on pollution and amenity in the Lords last week, Lord Shepherd revealed that there might be a Government White Paper setting out policy and dealing with vehicle exhaust fumes. He gave an assurance that at present exhaust fumes in British cities did not give rise to health dangers.
Rising costs • It has been estimated that average goods vehicle costs per vehicle mile increased by about 40 per cent in Great Britain as a whole during the period 1964-69—MoT Parliamentary Secretary, in the Commons just before Easter.
No direction for BRSL
• Mr Fred Mulley has refused to give a general direction to British Road Services Ltd not to transfer any of its regional headquarters to another town. Dame Irene Ward (Tory, Tynemouth), had asked him to make a direction.
Depot for Fyfes • On Wednesday new premises were opened in Cummings Street, Forres, by Fyfes of Forres. removers and starers. The opening was performed by the Member of Parliament for Moray and Nairn.
AA breakdown calls • With the introduction of the AA's new London Operations Centre at Stanmore, Middx: one of London's best-known phone numbersWHI 1200—has been discontinued. Members requiring the 24-hour breakdown service shoulc in future dial 954 7373.