Perishable rood: hours exemptions
3rd April 1970
Page 27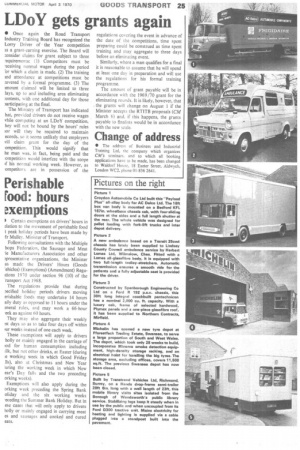 Page 27, 3rd April 1970 —
Perishable rood: hours exemptions
Close
II Certain exemptions on drivers' hours in elation to the movement of perishable food t peak holiday periods have been made by Mulley. Minister of Transport.
Following consultations with the Multiple hops Federation, the Sausage and Meat 'ie Manufacturers Association and other :presentative organizations, the Minister as made the Drivers' Hours (Goods 'ehicles) (Exemptions) (Amendment) Reguttions 1970 under section 96 (10) of the 'ransport Act 1968.
The regulations provide that during necified holiday periods drivers moving erishable foods may undertake 14 hours aily duty as opposed to 11 hours under the eneral rules, and may work a 66 hour :eek as against 60 hours.
They may also aggregate their weekly cst days so as to take four days off within iur weeks instead of one each week, These exemptions will apply to drivers .holly or mainly engaged in the carriage of ioci for human consumption including tilk, but not other drinks, at Easter (during ie working week in which Good Friday us), also at Christmas and New Year luring the working week in which New ear's Day falls and the two preceding orking weeks).
Exemptions will also apply during the orking week preceding the Spring Bank oliday and the six working weeks teceding the Summer Bank Holiday. But in ese cases that will only apply to drivers holly or mainly engaged in carrying meat es and sausages and cooked and cured eats.