LDoY gets grants again
3rd April 1970
Page 27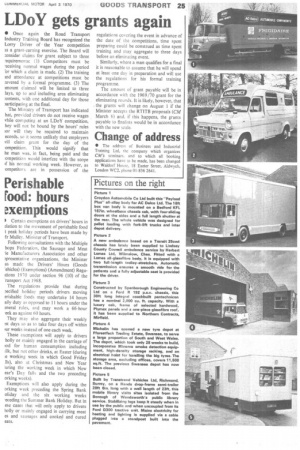 Page 27, 3rd April 1970 —
LDoY gets grants again
Close
• Once again the Road Transport Industry Training Board has recognized the Lorry Driver of the Year competition as a grant-earning exercise. The Board will consider claims for grant subject to three requirements: (1) Competitors must be Teceiving normal wages during the period :Or which a claim is made. (2) The training and attendance at competitions must be covered by a formal programme. (3) The imount claimed will be limited to three lays, up to and including area eliminating contests, with one additional day for those )articipating at the final.
The Ministry of Transport has indicated hat, provided drivers do not receive wages vhile competing at an LDoY competition, hey will not he hound by the hours' rules tor will they be required to maintain 'ecords, so it seems unlikely that employers vill claim grant for the day of the :ompetition. This would signify that he man was, in fact, being paid and the :ompetition would interfere with the scope if his normal working week. However, as :ompetitors are in possession of the regulations covering the event in advance of the date of the competitions, time spent preparing could be construed as time spent training and may aggregate to three days before an eliminating event.
Similarly, where a man qualifies for a final it is reasonable to assume that he will spend at least one day in preparation and will use the regulations for his formal training programme.
The amount of grant payable will be in accordance with the 1969/70 grant for the eliminating rounds. It is likely, however, that , the grants will change on August 1 if the Minister accepts the RTITB proposals (CM March 6) and, if this happens, the grants payable to finalists would be in accordance with the new scale.