New tail-end markings
3rd April 1970
Page 25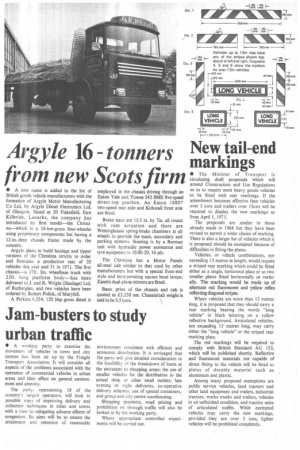 Page 25, 3rd April 1970 —
New tail-end markings
Close
• The Minister of Transport is circulating draft proposals which will amend Construction and Use Regulations so as to require most heavy goods vehicles to be fitted with rear markings. If the amendment becomes effective then vehicles
over 3 tons and trailers over 15cwt will be required to display the new markings as from April 1,1971.
The proposals are similar to those already made in 1968 but they have been revised to permit a wider choice of marking. There is also a larger list of vehicles which it is proposed should be exempted because of difficulties in fitting the plates.
Vehicles, or vehicle combinations, not exceeding 13 metres in length, would require a striped rear marking which could be fitted either as a single, horizontal plate or as two smaller plates fitted horizontally or vertict ally. The marking would be made up of alternate red fluorescent and yellow reflex reflecting diagonal stripes.
Where vehicles are more than 13 metres long, it is proposed that they should carry a rear marking bearing the words "long vehicle" in black lettering on a yellow reflective background. Articulated vehicles, not exceeding 13 metres long, may carry either the "long vehicle" or the striped rear marking plate.
The red markings will be required to comply with British Standard AU 152, which will be published shortly. Reflective and fluorescent materials not capable of direct fitting to the vehicle will be fitted to plates of durable material such as aluminium and plastic.
Among many proposed exemptions are public service vehicles, land tractors and other land equipment and trailers, industrial tractors, works trucks and trailers, vehicles in an unfinished condition, and tractive units of articulated outfits. While exempted vehicles may carry the new markings, provided they are over 3 tons, lighter vehicles will be prohibited completely.