New Equipment to Aid Maintenance
31st October 1952
Page 33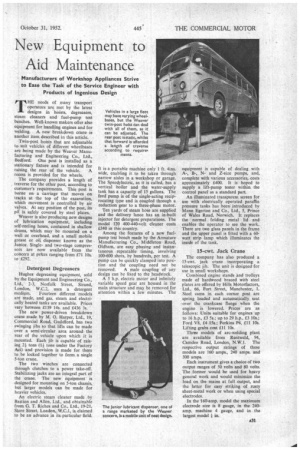 Page 33, 31st October 1952 —
New Equipment to Aid Maintenance
Close
Manufacturers of Workshop Appliances Strive to Ease the Task of the Service Engineer with Products of Ingenious Design
THE needs of many transport operators are met by the latest designs in hoists, degreasers, steam cleaners and fuel-pump test benches. Well-known makers offer also equipment for handling engines and for welding. A new breakdown crane is another item described in this article.
Twin-post hoists that are adjustable to suit vehicles of different wheelbases are being made by the Weaver Manufacturing and Engineering Co., Ltd., Bedford. One post is installed as a stationary fixture and is intended for raising the rear of the vehicle. A recess is provided for the wheels.
The company provides a length of traverse for the other post, according to customer's requirements. This post is borne on a carriage that moves on tracks at the top of the excavation, which movement is controlled by air valves. At any position of the post, its piE is safely covered by steel plates. Weaver is also producing new designs of lubrication equipment, including self-reeling hoses, contained in shallow drums, which may be mounted on a wall or overhead, and a small mobile grease or oil dispenser known as the Junior. Singleand two-stage compressors are now available from the concern at prices ranging from £71 10s. to £292.
Detergent Degreasers
Hughes degreasing equipment, sold by the Equipment and Engineering Co., Ltd., 2-3, Norfolk Street, Strand,. London, W.C.2, uses a detergent medium. Fourteen different models are made, and gas, steam and electrically heated tanks are available. Prices vary between £139 14s. and £436 3s.
The new power-driven breakdown crane made by M. 0. Harper, Ltd., 19,' Commercial Road, Guildford, has two swinging jibs so that lifts can be made over a semi-circular area around the rear of the vehicle upon which it is mounted. Each jib is capable of raising 2i tons (li tons under the Factory Act) and provision is made for them to be locked together to form a single 5-ton crane.
The two winches are connected through clutches to a power take-off. Stabilizing jacks are an integral part of the crane. The new equipment is designed for mounting on 5-ton chassis, but larger models can be made for heavier vehicles.
An electric steam cleaner made by Bastion and Allen. Ltd., and obtainable from G. T. Riches and Co., Ltd., 19-21, Store Street, London,. W.C.I, is.. claimed to be an advance in its particular field. It is a portable machine only 1 ft. 4ins. wide, enabling it to be taken through narrow aisles in a workshop or garage. The Speedylectric, as it is called, has a vertical boiler and the water-supply tank has a capacity of 15 gallons. The feed pump is of the single-acting reciprocating type and is coupled through a reduction gear to a three-phase motor.
Ten yards of steam hose are supplied and the delivery lance has an in-built injector for detergent preparations. The model 120 400-440-volt cleaner costs £340 in this country. • Among the features of a new fuelpump test bench made by the Armature Manufacturing Co., Middleton Road, Oldham, are easy phasing and instantaneous repeatable timing, involving 100-600 shots, by hundreds, per test. A pump can be quickly clamped into position and the coupling need not be removed. A male coupling of any design can be fixed to the headstock.
A 5 h.p. electric .motor and infinitely variable speed gear are housed in the main structure and may be removed for attention within a few minutes. The equipment is capable of dealing A-, B-, Nand Z-size pumps, complete with various accessories, costs approximately £400. It is hoped to supply a lift-pump tester within the control panel as a standard part.
An illuminated transparent screen for use with electrically operated paraffin pressure tanks has been introduced by Mann Egerton and Co., Ltd., 5, Prince of Wales Road, Norwich. It replaces the normal folding metal lid and enables the operator to see the work. There are two glass panels in the frame and the upper panel is fitted with a 60watt strip lamp which illuminates the inside of the tank. with and, 15-cwt. Jack Crane The company has also produced a 15-cwt. jack crane incorporating a telescopic jib. The unit is designed for use in small workshops. Combined engine stands and trolleys
made of hardwood braced with steel plates are offered by Hills Motorfactors, Ltd., 66, Port Street, Manchester, 1. Steel cams in each corner post are spring loaded and automatically seat over the crankcase flange when the engine is lowered. Prices are as follows: Units suitable for engines up to 16 h.p., £3 5s.; up to 29 h.p., £3 10s.; Ford VS, £4 15s.; Perkins P6, £11 10s. Lifting grabs coat £11 10s.
Three models of arc-welding plant are available from Rentweld, 94, Camden Road, London, N.W.I. The respective output ratings of these models are 160 amps., 240 amps. and 300 amps. Each instrument gives a choice of two output ranges of 50 volts and 80 volts. The former would he used for heavy general work and would minimize the load on the mains at full output, and the latter for easy striking of rusty sheet-metal work or when using special electrodes.
In the 160-amp. model the maximum electrode size is 8 gauge, in the 240amp. machine 4 gauge, and in the largest model .1 in.