Evidence Omissions Criticized
31st October 1952
Page 32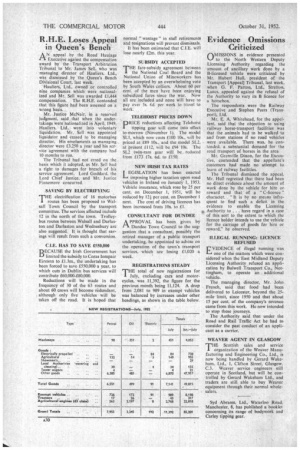 Page 32, 31st October 1952 —
Evidence Omissions Criticized
Close
OMISS1ONS in evidence presented to the North Western Deputy Licensing Authority regarding the amount of ancillary work dope by a B-licensed vehicle were criticized by Mr. Hubert Hull, president of the Transport [Appeal] Tribunal, last week, when G. F. Parton, Ltd" Stretton, Lanes, appealed against the refusal of the Authority to vary its B licence for a horsebox.
The respondents were the Railway Executive and Stephen Peers (Trans. port), Ltd.
Mr. E. A. Whitehead, for the appellant, said that the objection to using railway horse-transport facilities was that the animals had to be walked to and from stations if no road vehicles
were available. There was, he contended, a substantial demand for the road transport of horses in the area Mr. Grenville Dixon, for the Executive. contended that the appellant's customers had made no attempt to learn of railway facilities.
• The Tribunal dismissed the appeal. Mr. Hull regretted that there had been no direct evidence about the amount of work done by the vehicle for hire or reward and that of a "C-licence" character. " It is by no means infrequent to find such a deficit in the evidence to enable the Licensing
s"., Authority to . . . have regard in a case of this sort to the extent to which the licence holder intends to use the vehicle for the carriage of goods for hire or reward," he observed.
ILLEGAL RUNNING: LIC'ENCE REFUSED
EVIDENCE of illegal running was .11-4 one of the matters which were considered when the East Midland Deputy Licensing Authority refused an application by Bulwell Transport Co., Nottingham, to operate an additional vehicle.
The managing director, Mr. John French, said that food had been delivered to Leicester, beyond the 25mile limit, since 1950 and that about 15 per cent. of the company's revenue came from this work. He now intended to stop these journeys.
The Authority said that under the Road and Rail Traffic Act he had to consider the past conduct of an applicant as a carrier.
WEAVER AGENT IN GLASGOW
THE Scottish sales and service organization of the Weaver Manufacturing and Engineering Co., Ltd., is now being handled by Gerard Wake' ham, Ltd., 1, Clifton Street, Glasgow. C.3. Weaver service engineers still operate in Scotland, but will he controlled by Gerard Wakeham Ltd., and traders are still able to buy Weaver equipment through their normal wholesalers.
Syd Abrams. Ltd., Waterloo Road. Manchester, 8, has published a booklet concerning its range of bodywork and Carley tipping gear.