New Daimler Clutch on Trial
31st October 1952
Page 30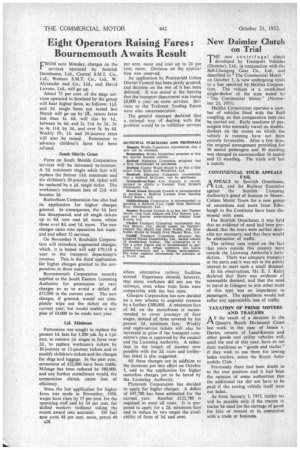 Page 30, 31st October 1952 —
New Daimler Clutch on Trial
Close
THE new centrifugal clutch
developed by Transport Vehicles (Daimler), Ltd., in conjunction with the Self-Changing Gear Co., Ltd., and described in "The Commercial Motor" on October 3, is now undergoing trials in a bus operated by Halifax Corporation. The vehicle is a crush-load Single-decker of the type tested by "The Commercial Motor (November 23, 1951).
.Halifax Corporation operates a number of vehicles fitted with the fluid coupling, so that comparative tests can be. carried out. Early reactions of passengers who normally travel on doubledeckers on the routes on which the vehicle is running have not been entirely favourable. After a few days, the original arrangement providing for 30 seated passengers and 30 standing was changed to accommodate 36 seated and 12 standing. The trials will last a month.
CONTINENTAL TOUR APPEALS FAIL
APPEALS by Scottish Omnibuses, Ltd., and the Railway Executive
against the Scottish Licensing Authority's grant of licences to Messrs. Cotters Motor Tours for a new group of excursions and tours from Edin-. burgh to the Continent have been dismissed with costs.
For Scottish Omnibuses it was held that no evidence of need had been produced, that the tours were neither desirable nor necessary, and that there would be abstraction of traffic.
The railway case rested on the fact that tours • outside this country wera outside the Licensing Authority's jurisdiction. There was adequate transpoft to the ports and it was not in the public interest to meet such a small demand.
In his observations, Mr. E. J. Keiti declared that there was evidence cf reasonable demand, and that the need to travel to Glasgow to join other tours of this type was an impedance to passengers. The appellants would not suffer any appreciable loss of traffic.
TAXATION OF PRIME MOVERS AND TRAILERS
AS the result of a decision in the Queen's Bench Divisional Court last week, in the case of James v. Davies, owners of Land-Rovers and other goods and utility vehicles will, until the end of this year, have to tax their machines as "goods and trailer" if they wish to use them for towing laden trailers, states the Royal Automobile Club, •
Previously there had been doubt as to the true position and it had been the opinion of some authorities that the additional tax did not have to be paid if the towing vehicle itself were not laden.
As from January 1, 1953, trailer tax will be payable only if the tractor oi trailer be used for the carriage of goods for hire or reward or in connection with a trade or business.