Manchester to Run Crush-load Buses
31st October 1952
Page 29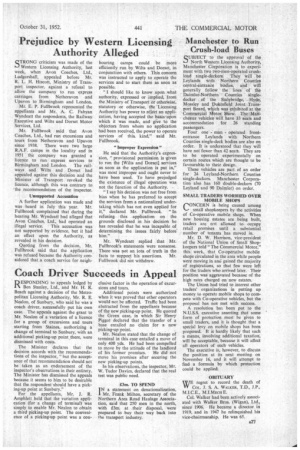 Page 29, 31st October 1952 —
Manchester to Run Crush-load Buses
Close
Keywords :
SUBJECT to the approval of the North Western Licensing Authority, Manchester CorpOration is to experiment with two two-men-operated crushload single-deckers: They will be Leylands with Northern Counties central-entrance bodies, and will generally follow the lines of the Dairnler-Northern • Counties singledecker of the Stalybridge, --Hyde, Mossley and Dukinfield Joint Transport Board, which was exhibited at the Commercial Motor Show. The' Manchester vehicles will have 33 seats and accommodation for 26 standing passengers.
Four one -' man operated frontentrance Leylands with Northern Counties single-deck bodies are also on order. It is understood that they will have not fewer than 42 seats. They are to be operated experimentally on certain routes which are thought to be favourable to their design.
These vehicles are part of an order for 24 Leyland-Northern Counties single-deckers. Manchester Corporation also has 160 double-deckers (70 Leyland and 90 Daimler) on order.
SMALL TRADERS WORRIED OVER MOBILE SHOPS
CONCERN is being caused among small shopkeepers by the activities of Co-operative mobile shops. When new housing estates are being built, traders are not allowed to occupy retail premises until a substantial number of tenants has moved in.
Mr. D. W. Harrison, vice-president of the National Union of Small Shopkeepers told "The Commercial Motor,' this week, that Co-operative mobile shops circulated in the area while people were moving in and gained the majority of registrations, so that few were left for the traders who arrived later. Their position was aggravated because of the high rates charged on new estates.
The Union had tried to interest other traders' organizations in putting up money to operate mobile shops to compete with Co-operative vehicles, but the proposal has not met with success.
A resolution has been put to the N.U.S.S. executive asserting that some form of protection must be given to small traders, and it is thought that a special levy on mobile shops has been proposed. It is hardly likely that such a means, involving additional taxation, will be acceptable, because it will affect all operators of such vehicles. The executive is, however, to discuss the position at its next meeting on November 16, and it will attempt to find a formula by which pmtection could be applied.
OBITUARY
WEregret to record the death of Cot. J. S. A. WALKER, T.D., J.P., M.I.C.E., M.I.MEcit E.
Col. Walker had been actively associated with Walker Bros. (Wigan), Ltd., since 1906. He became a director in 1919, and in -1947 he relinquished his
vice-chairmanship. He was 65. .