Nearly Elm. for Hauliers
31st October 1952
Page 28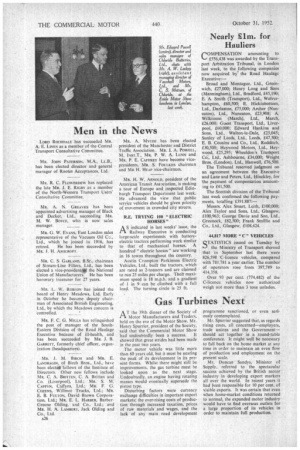 Page 28, 31st October 1952 —
Nearly Elm. for Hauliers
Close
COMPENSATION amounting to \-0 £556,438 was awarded by the Transport Arbitration Tribunal, in London last week, to the following companies now acquired by* the Road Haulage Executive:— Broad and Montague, Ltd., Greenwich, £27,000; Henry Long and Sons (Manningham), Ltd., Bradford, £45,190; E. A. Smith (Transport), Ltd., Wolverhampton, £60,500; E. Hickinbottom, Ltd., Darlaston, £75,000; Archer (Nuneaton), Ltd., Nuneaton, £23,908; A. Wilkinson (March), Ltd., March, £26,000; Guest Transport, Ltd., Liverpool, £60,000; Edward Hankins and Sons, Ltd., Walton-le-Dale, £25,045; Sunley of Leeds, Ltd., Leeds, £47,500; E. B. Cousins and Co., Ltd., Redditch, £30,500; Heywood Motors, Ltd., Heywood, £25,295; Wheeldon's Transport Co., Ltd., Ashbourne, £34,000; Wright Bros. (London), Ltd., Hanwell, £76,500.
The Tribunal reserved judgment on an agreement between the Executive and Lane and Peters. Ltd., Hinckley, for The payment of compensation amounting to £41,500.
The Scottish division of the Tribunal last week confirmed the following payments, totalling £391,887:—
Messrs. Alex Smart, Leith, £100,000; Alex Taylor and Sons, Ltd., Glasgow, £100,963; George Davie and Son, Ltd., Greenock, £82,500; Frank Smillie and Co., Ltd., Glasgow, £108,424.
44,817 MORE " C " VEHICLES
QTATIST1CS issued on Tuesday by
the Ministry of Transport showed that in September last there were 826,598 C-licence vehicles, compared with 781,781 a year earlier. The number of operators rose from 397,789 to 414,358.
Over 93 per cent. (774,482) of the C-licence vehicles now authorized weigh not more than 3 tons unladen.