Northern Roadways Seeks Backings
31st October 1952
Page 27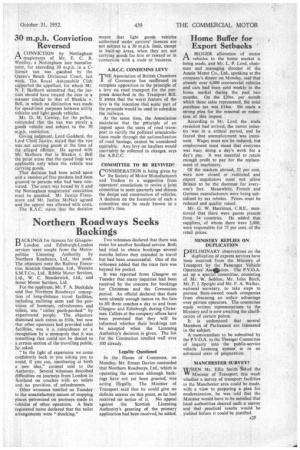 Page 27, 31st October 1952 —
Northern Roadways Seeks Backings
Close
BACKINGS for licences for GlasgowLondon and Edinburgh-London services were sought from the Metropolitan Licensing Authority by Northern Roadways, Ltd., this week. The objectors were the Railway Executive, Scottish Omnibuses, Ltd., Western S.M.T.Co., Ltd., Ribble Motor Services, Ltd., W. C. Standerwick, Ltd., and Scout Motor Services, Ltd.
For the applicant, Mr. F. A. Stockdale said that Northern Roadways' conception of long-distance travel facilities, including reclining seats and the provision of hostesses, refreshments and toilets, was "rather pooh-poohed " by experienced people. The objectors dismissed such extras as frills, but now that other operators had provided toilet facilities, was it a coincidence or a recognition by a monopoly that it was something that could not be denied to a certain section of the travelling public, he asked.
.
" In the light of experience we come confidently back to you asking you to avoid, if you can, smothering at birth a new idea," counsel said to the Authority. Several witnesses described difficulties on journeys from London to Scotland on coaches with no toilets and no provision of refreshments.
Other witnesses testified on Tuesday to the unsatisfactory nature of stopping places patronized on journeys made in vehicles of other operators. A State registered nurse declared that the toilet arrangements were "shocking." Two witnesses declared that there was room for another Scotland service. Both had tried to obtain bookings several months before they intended to travel but had been unsuccessful. One of the witnesses added that the train fare was beyond his pocket.
It was reported from Glasgow on Tuesday that many inquiries had been received by the concern for bookings for Christmas and the Coronation period. An official declared that there were already enough names an the lists to .fill three coaches a day to and from Glasgow and Edinburgh during Christmas. Callers at the company offices have been promised that they will be informed whether their bookings can be accepted when the Licensing Authority's decision is given. The list for the Coronation totalled well over 100 already.
Legality Questioned In the House of Commons, on Monday, Mr. Ernest Davies contended that Northern Roadways, Ltd., which is operating the services although backings have not yet been granted, was acting illegally. The Minister of Transport said that he could give no definite answer on this point, as he had received no notice of it. No appeal against the Scottish Licensing Authority's granting of the primary application had been received, he added.