30 m.p.h. Conviction Reversed
31st October 1952
Page 27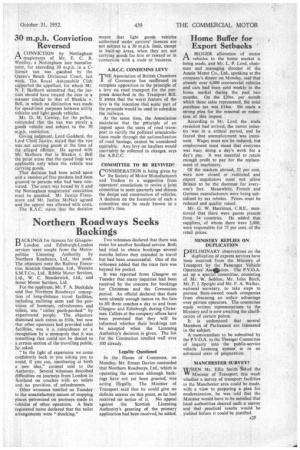 Page 27, 31st October 1952 —
30 m.p.h. Conviction Reversed
Close
A CONVICTION by Nottingham 1' I magistrates of Mr. E. C. B. Woolley, a Nottingham lace manufacturer, for exceeding 30 m.p.h. in a Clicence van was quashed by the Queen's Bench Divisional Court, last week. The Royal Automobile Club supported the appellant, for whom Mr. N. J. Skelhom submitted that, the justices should have treated the 'case in a manner similar to that of Blenkin v. Bell, in which no distinction was made for speed-limit purposes between utility vehicles and light goods vehicles.
Mr. D. M. Cowley, for the police, contended that the van was purely a goods vehicle and subject to the 30 m.p.h. restriction.
Giving judgment, Lord Goddard, the Lord Chief Justice, stated that the van was not carrying goods at the time of the alleged offence. He agreed with Mr. Skelhom that in Blenkin v. Bell the point arose that the speed limit was applicable only when the vehicle was carrying goods.
That decision had been acted upon and a numberaaf free pardons had been granted to persons who had been convicted. The court was bound by it and the Nottingham magistrates' conviction must be quashed. Mr. Justice Finnemore and Mr. Justice McNair agreed and the appeal was allowed with costs.
The R.A.C. states that the decision means that light goads vehicles authorized under carriers' licences are not subject to a 30 m.p.h. limit, except in built-up areas, when they are not carrying goods for hire or reward or in connection with a. trade or business.
A.B.C.C. CONDEMNS LEVY THE Association of British Chambers 1 of Commerce has reaffirmed its complete opposition to the principle of a levy on road transport for the purposes described in the Transport Bill. It states that the worst feature of the levy is the intention that some part of the proceeds would be used to subsidize the railways.
At the same time, the Association maintains that the principle of an impost upon the users of road transport to rectify the political miscalculations made through the nationalization of road haulage, cannot be considered equitable. Any levy on hauliers would inevitably be reflected in charges, says the A.B.C.C.
COMMITTEE TO RE REVIVED?
CONSIDERATION is being given by the Society of Motor Manufacturers and Traders to a suggestion from Operators' associations to revive a joint committee to meet quarterly and discuss the design and construction of vehicles. A decision on the formation of such a committee may be made known in a month's time.