• Home Buffer for Export Setbacks
31st October 1952
Page 27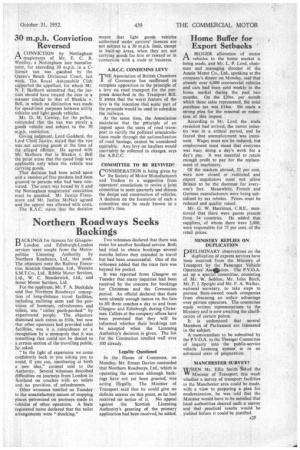 Page 27, 31st October 1952 —
• Home Buffer for Export Setbacks
Close
ABIGGER allocation of motor vehicles to the home market is being made, and Mr. L. P. Lord, chairman and managing director of the Austin Motor Co., Ltd., speaking at the company's dinner on Monday, said'that already over 6,000 commercial vehicles and cars had been sold weekly in the home market during the past two months. On the £20m. per month which these sales represented, the total purchase tax was £14m. He made a strong plea for the removal or reduction of this impost.
According to Mr. Lord, the trade recession had arrived, the motor industry. was in a critical period, and he feared that unemployment was imminent. Wages must not be reduced, but employment must mean that everyone was busy doing a day's work for a day's pay. It was essential to retain enough profit to pay for the replacement of machinery.
Of the markets abroad, 52 per cent. were now closed or restricted and export negotiators must not allow Britain to be the doormat for everyone's feet. Meanwhile, French and German manufacturers were being subsidized by tax rebates. Prices must be reduced and quality raised.
Mr. G. W. Harriman, C.B.E., mentioned that there were guests present from 34 countries. He added that suppliers, of whom there were 3,000, were responsible for 75 per cent, of the retail prices.
MINISTRY REPLIES ON DUPLICATION DRELIMINARY observations on the
• duplication of express services have been received from the Ministry of Transport by the Passenger Vehicle Operators' Asseation. The P.V.O.A. set up a special—committee, consisting of Mr. W. Seddon, Mr. John Birch, Mr. F. J. Speight and Mr. F. A. Walker, national secretary, to take steps to prevent State-owned coach companies from obtaining an unfair advantage over private operators. The committee made written representations to the Ministry and is now awaiting the clarification of certain points.
It is understood that several Members of Parliament are interested in the subject.
A memorandum to be submitted by the P.V.O.A. to the Thesiger Committee of inquiry into the public-service vehicle licensing system/ is in an advanced state of preparation.
MANCHESTER SURVEY?
WHEN Mr. Ellis Smith %shed the YV Minister of Transport this week whether a survey of transport facilities in the Manchester area could be made, with a view to preparing a plan for modernization, he was told that the Minister would have to be satisfied that local authorities desired such a survey and that practical results would 'be yielded before it could be justified.