One Hears
31st October 1952
Page 25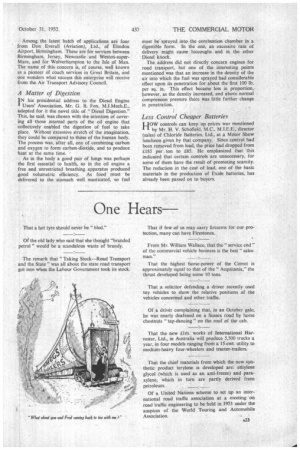 Page 25, 31st October 1952 —
One Hears
Close
That a hot tyre should never be" bled."
Of the aid lady who said that she thought "branded petrol" would be a scandalous waste of brandy.
The remark that "Taking Stock—Road Transport and the State" was all about the state road transport got into when the Labour Government took its stock. That if few of us may carry firearms for our protection, many can have Firestones.
From Mr. William Wallace, that the " service end" of the commercial vehicle business is the best "salesman."
That the highest horse-power of the Comet is approximately equal to that of the " Acquitania," the thrust developed being some 10 tons.
That a solicitor defending a driver recently used toy vehicles to show the relative positions of the vehicles coneerned and other. traffic.
Of a driver complaining that, in an October gale, he was nearly deafened on a Sussex road by horse chestnuts " tap-dancing " on the roof of the cab.
That the new Elm. works of International Harvester, Ltd., in Australia will produce 5,500 trucks a year, in four models ranging from a 15-cwt. utility, to medium-heavy four-wheelers and tractor-trailers.
That the chief materials from which the new synthetic product terylene is developed are: ethylene glycol (which is used as an anti-freeze) and paraxylene, which in turn are partly derived from petroleum.
Of a United Nations scheme to set up an international road traffic association at a meeting on road traffic engineering to be held in 1953 under the auspices of the World Touring and Automobile Association.