PREVENTING JACKET TROUBLES IN WINTER.
31st October 1918
Page 9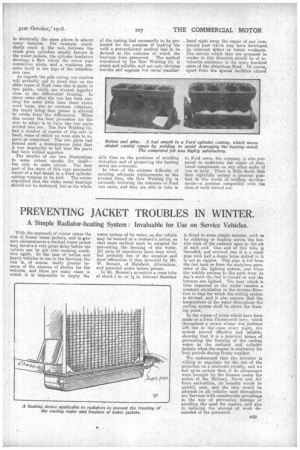 Page 9, 31st October 1918 —
PREVENTING JACKET TROUBLES IN WINTER.
Close
A Simple Radiator-heating System : Invaluable for Use on Service Vehicles.
With the approach of winter comes the risk of frozen water jackets, and in 'present circumstances a cracked water jacket may involve a very great delay before tile vehicle can be got into running condition again. In the case of lorries and heavy vehicles in use in the Services, the risk is, of course, vastly greater because of the absence of shelter for the vehicles, and there are many cases in which it is impossible to empty the
water system of its water, as the vehicle may be wanted at a moment's notice, so that some method must be adopted for preventing the freezing of the water. All sorts of expedients have been tried, but probably one of the simplest and most efficacious is that invented by Mr. W. Benson, of Halefield, Altrincham, and patented under letters patent. In Mr. Benson's invention a cross tube of about 1 in. or l in. internal diameter is fitted in some simple manner, such as by soldering or brazing across the bottom tank of the radiator open to the air at each end. One end of this tube is threaded, and screwed into it is a small pipe with half a dozen 'holes drilled in it to act as nipples. This pipe is fed from the fuel tank or from the acetylene generator of the lighting system, and when the vehicle returns to the park from its day's work the fuel is turned on and the burners are lighted. The heat which is thus imparted to the water ensures a constant circulation in the reverse direction to that for which the cooling system is devised, and it also ensures that the temperature of the water throughout the cooling system shall be above the freezing point.
In the course of trials which have been made on a 3-ton Thornycroft lorry, which throughout a severe winter was perforce left out in the-open every night: the system proved effective and reliable, showing that it is a practical means of preventing the freezing of the cooling water in the radiator and cylinder jackets when the engine is stationary for long periods during frosty weather.
We understand that the inventor is willing to negotiate for the use of the invention on a moderate royalty, and we feel quite certain that, if its advantages were brought by the licensee under the notice of the Military, Naval and Air force authorities, its benefits would be quickly seen, and the idea would be adopted on all vehicles used throughout the Services with considerable advantage in the way of preventing damage or avoiding the need for repairs, and also in reducing the amount of work demanded of the personnel.