AN ITALIAN-PRODUCED AGRIMOTOR.
31st October 1918
Page 11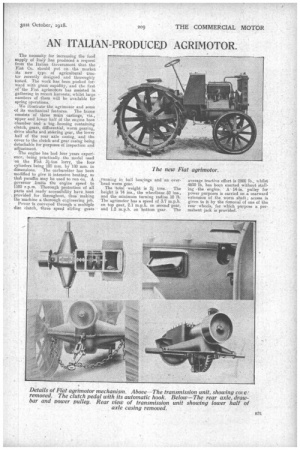 Page 11, 31st October 1918 —
AN ITALIAN-PRODUCED AGRIMOTOR.
Close
The necessity for increasing the food supply of Italy has produced a request from the Italian Government that the Fiat Co. should put on the market its new typi, of agricultural tractor recently designed and thoroughly tested. The work has been pushed forward with great rapidity, and the first orthe Fiat agrimotors has assisted in gathering in recent harvests, whilst large numbers of them will be available for spring operations.
We illustrate the agrimotor and some of its mechanical features. The frame consists of three main castings, viz., upper and lower half of the engine base chamber and a big .housing containing clutch, gears, differential, worm gearing, drive shafts and steering gear, the lower half of the rear axle casing, and the cover to the clutch and gear casing being detachable for purposes of inspection and adjustment.
The engine has had four years experience, being practically the. model used on the Fiat 314on lorry, the four cylinders being 100 mm. by 180 mm. in dimensions. The carburetter has been modified to give it intensive heating, so thal paraffin may be used to run on. A governor limits. the engine speed to 1100 r.p.m. Thorough protection of all parts and ready accessibility have been provided for throughout, thus making the machine a thorough engineering job. Power is conveyed through a multiple disc clutch, three speed sliding gears running in ball bearings and an over'head worm gear.
The total weight is 2i tons. The height is 74 ins., the wheelbase 52 ins., and the minimum turning radius 10 ft. The agrimotor has a speed of 3.7 m.p.h. on top gear, 2.1 m.p.h. on secondgear, and 1.2 m.p.h. on bottom gear. The average tractive effort is 2500 lb., v,hilst 4600 lb. has been exerted without stalling -the engine. A14-in, pulley for power purposes is carried on a rearward extension of the worm shaft; access is given to it by the iemoval cf one of the rear wheels, for which purpose a permailent jack is provided.