LEAVES FROM THE INSPECTOR'S' - NOTEBOOK.
31st October 1918
Page 10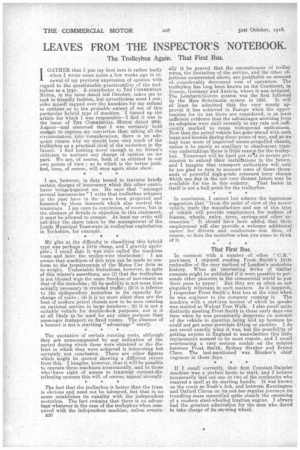 Page 10, 31st October 1918 —
LEAVES FROM THE INSPECTOR'S' - NOTEBOOK.
Close
The Trolleybus Again. That First Bus.
IGATHER that I sput my foot into it rather badly • when I wrote some notes a few weeks ago in renewal ,bf my previous expression of opinion with regard to the questionable practicability of the trolleybus as a type. A contributor to TRE COMMERCIAL IVIoToa, in the issue dated 3rd October, takes me to task in friendly fashion, but nevertheless must I consider myself rapped over the knuckles for my refusal to enthuse as to the probable extent of use of this particular hybrid type of machine. I turned up the article for which I was responsible—I find it was in the 'issue of THE COMMERCIAL MOTOR dated 29th August—and observed that -I was certainly bold enough to express my conviction that, taking all the circumstances into .consideration, there is no adequate reason why we should hear very much of the trolleybus as a practical rival of the motorbus in the future. -I find nothing novel enough in my friend's criticism to warrant any change of opinion on my part. We are, of course, both of us entitled to our own points of view ; as to which is the better justified, time, of course, will once again alone show.
I am, however, in duty bound to traverse briefly certain charges of inaccuracy which this other contributor bringssagainst me. He says that "amongst . several inaccuracies" I write that trolleybus schemes in the past have in the main been projected and • financed by those interesfs which also control the tramways. I am open to conviction, of course, but in the absence of details in objection to this statement, it must be allowed to remain. At least my critic will not deny the share taken by the management of the Leeds Municipal Tramways in trolleybus exploitation in Yorkshire, for example.
My gibe at the difficulty in classifying this hybrid type was perhaps a little cheap, and I gravely apologize; I recall that it was once called the trackless tramand later the trolley-wire electrobus I I am aware that machines of this type can be made to conform to the requirements of the Motor Car Acts as to weight. Undeniable limitations, however, in spite of this winter's assertions, are (1) that the trolleybus is not blessed wnit the same freedom of movement as that of the motorbus; (2) its mobility is not more than actually necessary in crowded traffic ; (3) it is inferior. to the tindependent motorbus in its capacity for change of route ; (4) it is no more silent than are the best of modern petrol chassis now to be seen running on national service in large numbers ; (5) it is not a suitable' vehicle for double-deck purposes, nor is it at all likely to be used for any other purpose than passenger transport on fixed routes. The absence of a bonnet is not a startling "advantage" surely. •
The quotation of certain running costs, although they are unaccompanied by any indication of the period during which these were obtained or the district in which they were achieved is interesting but certainly not conclusive. There are other figures which might be quoted showing a different return from this. I imagine, however, that it will be possible to operate these machines economically, and to those who 'have right of access to tramway current-distributing systems this will, of oourse, appeal strongly.
The fact that the trolleybus is better than the tram is obvious and need not be laboured, but that in no sense establishes its equality with the independent motorbus. The fact remains that there is no advantage whatever in the case of the trolleybus when compared with the independent machine, unless eventu 3330
ally it be proved that the encumbrance of trolley wires, the limitation of the service, and the other objections enumerated above, are justifiable on account of. considerably decreased cost of operation. The trolleybus has long been known on the Continent, in France, Germany and Austria, where it was initiated. The Lombard-Guerin system was the first followed by the Max Scheimann system in 1903. It will at least be admitted that the very scanty approval it has achieved in Europe when the opportunities for its use there are considered, is at least sufficient evidence that the advantages accruing from its adoption were until recently at any rate not sufficiently marked to rouse widespread enthusiasm. Now that the petrol vehicle has gone ahead with such leaps and bounds during these years of war, and as we may hear more of improved steam-propelled chassis, unless it be purely as auxiliary to obsolescent tramway undertakings there is little reason for the trolleybus. Tramways will be hard put tot to secure permission to extend their installations in the future, and I imagine that transport , authorities will only be too glad to turn, to account some of those thousands of powerful high-grade returned lorry chassis tshich one day in the not very distant future may be
available for use in this country. That factor in itself is not a bull point for the trolleybus.
In conclusion, I cannot but admire the ingenuous suggestion that "from the point of view of the motor vehicle trade the manufacture and use of this type of vehicle will provide employment for makers of frames, wheels, axles, tyres, springs and other accessories." Itshould have been added that their employment will also provide a welcome additional career for drivers and conductors—but then, of course, so does the motorbus when you come to think of it.
That First Bus.
In common with a number of other " C.M." partisans, I enjoyed reading Frost Smith's little rechauffee of the very earliest of London's motorbus history. What an interesting series of similar resumes might be published if it were possible to persuade other pioneers in the commercial world to put their pens to paper ! But they are as often as not singularly reluctant in such Matters. As it happens, renienaber Frost Smith's first bus at the time when he was engineer to the company running it. The machine with a, east:iron bonnet of which he speaks was stabled at Walnut Tree Walk. I also recall quite distinctly meeting Frost Smith in those early days one time when he was persistently desperate on account of the vehicle in question being laid up because he could not get some poreclain fitting or another. I do not recall exactly what it was, but the possibility of getting anyone in England to manufacture this little replacement seemed to be most remote, and I recall overhearing a very serious confab on the subject between Frost Smith, Sydney Straker and Ernest Clare. The last-mentioned was Straker's chief engineer in those days.
If I recall correctly, that first Canstatt-Daimler machine was a perfect brute to start, and I believe temporarily laid out one or two of the mechanics who essayed a spell at its starting handle. It was known on the route as Noah's Ark, and between Kennington and Oxford Circus on its not too regular journeys its trundling mass resembled quite closely the oncoming of a modern steel-wheeled traction engine. I always had the greatest admiration for the men vfho dared to take claarge of its steering wheel.