Insurance simply explained
31st May 1968
Page 61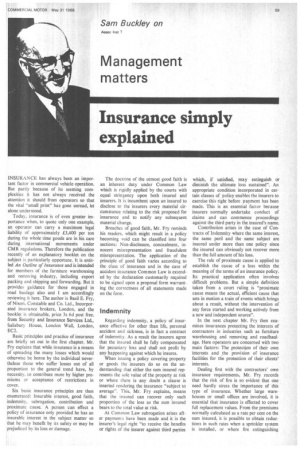 Page 62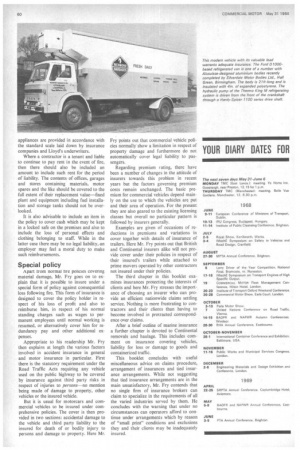 Page 61, 31st May 1968 —
Insurance simply explained
Close
INSURANCE has always been an important factor in commercial vehicle operation. But partly because of its seeming complexities it has not always received the attention it should from operators so that the vital "small print" has gone unread, let alone under stood.
Today, insurance is of even greater importance when, to quote only one example, an operator can carry a maximum legal liability of approximately £3,400 per ton during the whole time goods are in his care during international movements under CMR regulations, Therefore the publication recently of an explanatory booklet on the subject is particularly opportune. It is entitled An Outline of Insurance and is intended for members of the furniture warehousing and removing industry, including export packing and shipping and forwarding. But it provides guidance for those engaged in road haulage also and I am accordingly reviewing it here. The author is Basil E. Fry, of Nixon, Constable and Co. Ltd., Incorporated insurance brokers, London, and the booklet is obtainable, price 3s 6d post free, from Security and Insurance Services Ltd., Salisbury House, London Wall, London, EC 2.
Basic principles and practice of insurance are briefly set out in the first chapter. Mr. Fry explains that while insurance is a means of spreading the many losses which would otherwise be borne by the individual nevertheless those who suffer losses out of all proportion to the general trend have, by necessity, to contribute more by higher premiums or acceptance of restrictions in cover.
Six basic insurance principles are then enumerated: Insurable interest, good faith, indemnity, subrogation, contribution and proximate cause. A person can effect a policy of insurance only provided he has an insurable interest in the subject matter so that he may benefit by its safety or may be prejudiced by its loss or damage. The doctrine of the utmost good faith is an inherent duty under Common Law which is rigidly applied by the courts with equal stringency upon both insured and insurers. It is incumbent upon an insured to disclose to the insurers every material circumstance relating to the risk proposed for insurance and to notify any subsequent material change.
Breaches of good faith, Mr. Fry reminds his readers, which might result in a policy becoming void can be classified into four sections: Non-disclosure, concealment, innocent misrepresentation and fraudulent misrepresentation. The application of the principle of good faith varies according to the class of insurance and in the case of accident insurance Common Law is extended by the declaration customarily required to be signed upon a proposal form warranting the correctness of all statements made on the form.
Indemnity
Regarding indemnity, a policy of insurance effective for other than life, personal accident and sickness, is in fact a contract of indemnity. As a result the insurers agree that the insured shall be fully compensated for pecuniary loss and shall not profit by any happening against which he insures.
When issuing a policy covering property or goods the insurers do so on the understanding that either the sum insured represents the sole value of the property at risk or where there is any doubt a clause is inserted rendering the insurance "subject to average". This, Mr. Fry explains, means that the insured can recover only such proportion of the loss as the sum insured bears to the total value at risk.
At Common Law subrogation arises after payments have been made and it is the insurer's legal right "to receive the benefits or rights of the insurer against third parties which, if satisfied, may extinguish or diminish the ultimate loss sustained". An appropriate condition incorporated in certain classes of policy enables the insurers to exercise this right before payment has been made. This is an essential factor because insurers normally undertake conduct of claims and can commence proceedings against the third party in the insured's name.
Contribution arises in the case of Contracts of Indemnity where the same interest, the same peril and the same subject are insured under more than one policy since the insured can obviously not recover more than the full amount of his loss.
The rule of proximate cause is applied to establish the cause of a loss within the meaning of the terms of an insurance policy. Its practical application often involves difficult problems. But a simple definition taken from a court ruling is "proximate cause means the actual, efficient cause that sets in motion a train of events which brings about a result, without the intervention of any force started and working actively from a new and independent source".
In the next chapter Mr. Fry then examines insurances protecting the interests of contractors in industries such as furniture warehousing and removing and roadhaulage. Here operators are concerned with two main factors: The protection of their own interests and the provision of insurance facilities for the protection of their clients' interests.
Dealing first with the contractors' own insurance requirements, Mr. Fry records that the risk of fire is so evident that one need hardly stress the importance of this type of insurance. Whether large warehouses or small offices are involved, it is essential that insurance is effected to cover full replacement values. From the premiums normally calculated as a rate per cent on the sum insured, it is possible to obtain reductions in such rates when a sprinkler system is installed, or where fire extinguishing appliances are provided in accordance with the standard scale laid down by insurance companies and Lloyd's underwriters.
Where a contractor is a tenant and liable to continue to pay rent in the event of fire, then there should also be included an amount to include such rent for the period of liability. The contents of offices, garages and stores containing materials, motor spares and the like should be covered to the full extent of their replacement value—fixed plant and equipment including fuel installation and storage tanks should not be overlooked.
It is also advisable to include an item in the policy to cover cash which may be kept in a locked safe on the premises and also to include the loss of personal effects and clothing belonging to staff. While in the latter case there may be no legal liability, an employer may feel a moral duty to make such reimbursements.
Special policy
Apart from normal tire policies covering material damage, Mr. Fry goes on to explain that it is possible to insure under a special form of policy against consequential loss following fire. This form of insurance is designed to cover the policy holder in respect of his loss of profit and also to reimburse him, in respect of his normal standing charges such as wages to permanent employees until normal working is resumed, or alternatively cover him for redundancy pay and other additional expenses.
Appropriate to his readership Mr. Fry then explains at length the various factors involved in accident insurance in general and motor insurance in particular. First there is the statutory requirement under the Road Traffic Acts requiring any vehicle used on the public highway to be covered by insurance against third party risks in respect of injuries to persons—no mention being made of damage to property, other vehicles or the insured vehicle.
But it is usual for motorcars and commercial vehicles to be insured under comprehensive policies. The cover is then provided in two sections: accidental damage to the vehicle and third party liability to the insured for death of or bodily injury to persons and damage to property. Here Mr. Fry points out that commercial vehicle policies normally show a limitation in respect of property damage and furthermore do not automatically cover legal liability to passengers.
Regarding premium rating, there have been a number of changes in the attitude of insurers towards this problem in recent years but the factors governing premium costs remain unchanged. The basic premium for commercial vehicles depend mainly on the use to which the vehicles are put and their area of operation. For the present they are also geared to the existing licensing classes but overall no particular pattern is followed by insurers generally.
Examples are given of occasions of reductions in premiums and variations in cover together with details of insurance of trailers. Here Mr. Fry points out that British and Continental insurers alike will not provide cover under their policies in respect of their insured's trailers while attached to prime movers operated by other contractors not insured under their policies.
The third chapter in this booklet examines insurances protecting the interests of clients and here Mr. Fry stresses the importance of choosing an insurer who can provide an efficient nationwide claims settling service. Nothing is more frustrating to contractors and their clients than having to become involved in protracted correspondence over claims.
After a brief outline of marine insurance a further chapter is devoted to Continental removals and haulage. This includes comment on insurance covering vehicles, liability for loss or damage to goods and containerized traffic.
This booklet concludes with useful miscellaneous advice on claims procedure, arrangement of insurances and tied insurance arrangements. While not suggesting that tied insurance arrangements are in the main unsatisfactory, Mr. Fry contends that no single firm of insurance brokers can claim to specialize in the requirements of all the varied industries served by them. He concludes with the warning that under no circumstances can operators afford to continue under arrangements which by reason of "small print" conditions and exclusions they and their clients may be inadequately insured.