New equipment and publications
31st May 1968
Page 39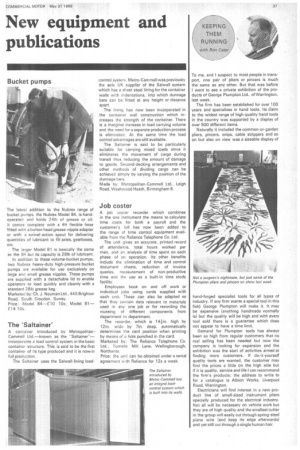 Page 40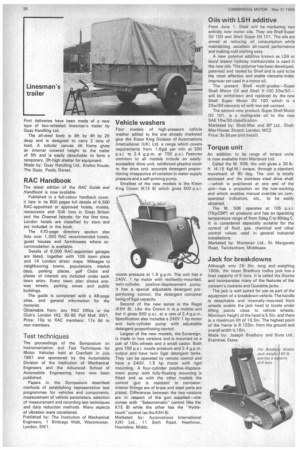 Page 41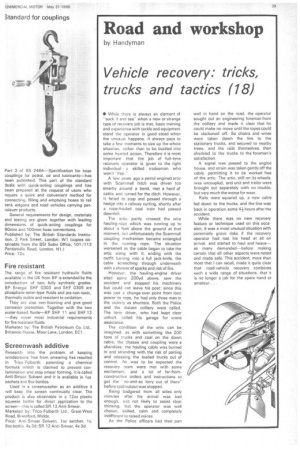 Page 39, 31st May 1968 —
New equipment and publications
Close
Bucket pumps
The latest addition to the Nubrex range of bucket pumps, the Nubrex Model 84, is handoperated and holds 24Ih of grease or oil.
It comes complete with a 4ft fIexibIe hose fitted with a button head grease nippleadapter or with a swivel-action spout for delivering quantities of lubricant to fill axles, gearboxes, etc.
The larger Model 81 is basically the same as the 84 but its capacity is 28Ib of lubricant.
In addition to these volume-bucket pumps, two Nubrex heavy-duty high-pressure bucket pumps are available for use exclusively on large and small grease nipples. These pumps are supplied with a detachable lid to enable operators to load quickly and cleanly with a standard 28Ib grease keg.
Marketed by: Ch. J. Neuman Ltd., 445 Brighton Road, South Croydon, Surrey.
Price: Model 84—£10 10s: Model 81£14 10s.
The 'Saltainer' A container introduced by Metropolitan-, Cammell Ltd.—known as the -Saltainer-incorporates a load control system in the basic container structure. This is said to be the first container of its type produced and it is now in full production.
The Saltainer uses the Salvvall-lining load control system. Metro-Carnmell was previously the sole UK supplier of the Salvvall system• which has a sheet steel lining for the container walls with indentations, into which dunnage bars can be fitted at any height or distance apart.
The Lining has now been incorporated in the container wall construction which increases the strength of the container. There is a marginal increase in load carrying volume and the need for a separate production process is eliminated. At the same time the load control advantages are still available.
The Saltamer is said to be particularly suitable for carrying mixed loads since it eliminates the movement of cargo during transit thus reducing the amount of damage to goods. Second-decking arrangements and other methods of dividing cargo can be achieved simply by varying the position of the dunnage bars Made by: Matropolitan-Cammell Ltd., Leigh Road, VVashwood Heath, Birmingham 8.
Job coster
A job coster recorder which combines in the one instrument the means to calculate time costs for both a payroll and the customer's hill has now been added to the range of time control equipment available from the Reliance Telephone Co. Ltd_ The unit gives an accurate, printed record of attendance, total hours worked per man, and an analysis of time spent on each phase of an operation. Its other benefits include the elimination of time and control document sheets, reduction of invoice queries, measurement of non-productive time and the use as a built-in time study facility.
Employees book on and off work or individual jobs using cards supplied with each unit. These can also be adapted so that they contain data relevant to materials used in any one job or for recording the routeing of different components from department to department.
The recorder, which is 141in, high by 12in. wide by 7in. deep, automatically determines the card position when printing by means of a hole punched in the card.
Marketed by The Reliance Telephone Co. Ltd., Tu rn el Is Mill Lane, Wellingborough, Northants.
Price: the unit can be obtained under a rental agreement i,vith Reliance for 12s a week. First deliveries have been made of a new type of two-wheeled linesman's trailer by Quay Handling Ltd.
The all-steel body is 8ft by 4ft by 2ft deep and is designed to carry 2 tons of load. A tubular canvas tilt frame gives an internal covered height to the trailer of 5ft and is easily detachable to form a temporary. 3ft-high shelter for equipment. Made by: Quay Handling Ltd., Enefco House, The Quay, Poole, Dorset.
RAC Handbook
The latest edition of the RAC Guide and Handbook is now available.
Published in a full-colour hardback cover, it lists in its 800 pages full details of 4,500 RAC-appointed or approved hotels, motels, restaurants and Grill Inns in Great Britain and the Channel Islands; for the first time, London hotels are classified by stars and are included in the book.
The 470-page directory section also lists over 1,000 RAC recommended hotels, guest houses and farmhouses where accommodation is available.
Details of 8,000 RAC-appointed garages are listed, together with 105 town plans and 14 London street maps. Mileages to neighbouring towns, populations, market days, parking places, golf Clubs and places of interest are included under each town entry. Every town plan shows oneway streets, parking zones and public buildings.
The guide is completed with a 48-page atlas, and general information for the motorist.
Obtainable from: any RAC Office or the Club's London HQ, 83-85 Pall Mall, SW1. Price: 10s to RAC members; 17s 6d to non-members.
Test techniques
The proceedings of the Symposium on Instrumentation and Test Techniques for Motor Vehicles held at Cranfield in July 1967 and sponsored by the Automobile Division of the Institution of Mechanical Engineers and the Advanced School of Automobile Engineering have now been published.
Papers in the Symposium described methods of establishing representative test programmes for vehicles and components, measurement of vehicle parameters, selection of measurement and recording test techniques and data reduction methods. Many aspects of vibration were considered.
Published by: The Institution of Mechanical Engineers, 1 Birdcage Walk, Westminster, London. SW1.
Vehicle washers
Four models of high-pressure vehicle washer added to the one already marketed give the Kleen King Division of Automations International (UK) Ltd. a range which covers requirements from 1.6gal per min at 500 p.s.i. to 2,4 g.p.m. at 750 p.s.i. Features common to all models include an easilyaccessible drive unit, reinforced-plastics cover to the drive unit, accurate detergent proportioning irrespective of variation in water-supply pressure and a self-priming pump.
Smallest of the new models is the Kleen King Crown (K1E 8) which gives 500 p.s.i.
nozzle pressure at 1.6 g.p.m. The unit has a 240V, 1 hp motor with resiliently-mounted, twin-cylinder, positive-displacement pump. It has a special adjustable detergent proportioning control, the detergent container being of 5gal capacity.
Second of the new series is the Regal (K5H 8). Like the Crown it is a mobile unit but it gives 500 p.s.i. at a rate of 2.4 g.p.m. Specification also includes a 240V 1 hp motor and twin-cylinder pump with adjustable detergent-proportioning control.
Largest of the new models, the Sovereign, is made in two versions and is mounted on a pair of 10in, wheels and a small castor. Both give 700 p.s.i. nozzle pressure and 2.4 g.p.m. output and have twin 5gal detergent tanks. They can be operated by remote control and have a 240V, 1.5 hp motor with rigid mounting. A four-cylinder positive-displacement pump with fully-floating mounting is fitted and as with the other models the control gun is resistant to corrosion; interior fittings are of brass and steel parts are plated. Differences between the two versions are in respect of the gun supplied—one comes with "Selectramatic" control (like the K1E 8) while the other has the "Hydratouch" control (as the KSH 8).
Marketed by: Automations International (UK) Ltd., 11 Bath Road, Heathrow, Hounslow, Middx.
Oils with LSH additive
From June 1, Shell will be marketing two entirely new motor oils. They are Shell Super Oil 100 and Shell Super Oil 101. The oils are aimed at reducing oil consumption while maintaining excellent all-round performance and making cold starting easy.
A new polymer additive known as LSH or lauryl stearyl hydroxy methacrylate is used in the new oils. This polymer has been developed, patented and tested by Shell and is said to be the most effective and stable viscosity-index improver yet used in a motor oil.
The present Shell multi-grades—Super Shell Motor Oil and Shell X-100 20w/5Owill be withdrawn and replaced by the new Shell Super Motor Oil 100 which is a 20w/50 viscosity oil with low ash content.
The second new product, Super Shell Motor Oil 101, is a multigrade oil to the new SAE 10w/30 classification.
Marketed by: Shell-Max and BP Ltd., Shell M ex House, Strand. London, WC2. . Price: 3s 3d per pint (retail).
Torque .unit
An addition to its range of torque units is now available from Martonair Ltd.
Called the M. 506, the unit gives a 30 lb.
ft. (4.15 Kgf.M.) torque, through a standard movement of 90 deg. The unit is totally enclosed and the stainless steel drive shaft —which is positioned at one end of the unit—has a projection on the non-working end which enables manual override on camoperated indicators, etc., to be easily obtained.
The M. 506 operates at 105 p.s.i. 171Kp/CM2) air pressure and has an operating
temperature range of from 5deg C to 90deg C. It is considered especially suitable for the control of fluid, gas, chemical and other control valves used in general industrial installations.
Marketed by: Martonair Ltd., St. Margarets Road, Twickenham, Middlesex.
Jack for breakdowns
Although only 2ft Sin, long and weighing 160Ib, the latest Bradbury trolley jack has a load capacity of 6 tons. It is called the Sixette and incorporates many of the features of the concern'sJackette and Quadette jacks.
The jack is well suited for use as part of the equipment of a breakdown vehicle. The handle is detachable and internally-mounted front wheels enable the jack head to locate under lifting points close to vehicle wheels. Minimum height of the head is 5.5in. and there is a maximum lift of 16.5in. The highest point of the frame is 8.125in. from the ground and overall width is 16in.
Made by: Joseph Bradbury and Sons Ltd.. Braintree, Essex. Part 3 of BS 2464—Specification for hose couplings for petrol, oil and lubricants—has been published. This part Of the standard deals with quick-acting couplings and has been prepared at the request of users who require a quick arid convenient method for connecting, filling and emptying hoses to rail tank wagons and road vehicles carrying petroleum products.
General requirements for design, materials and testing are given together with leading dimensions of quick-acting couplings for 80mm and 100mm hose connections. Published by: The British Standards Institution, 2 Park Street, London, W1 (copies obtainable from the BSI Sales Office, 1011113 Pentonville Road, London, Ni.) Price: 12s.
Fire resistant
The range of fire resistant hydraulic fluids available in the UK from BP is extended by the introduction of two fully synthetic grades. BP Energol SHF 0303 and SHF 0305 are phosphate-ester-type fluids and are non-toxic, thermally stable and resistant to oxidation.
They are also non-foaming and give good corrosion protection. Together with the two water-based fluids—BP SHF 11 and SHF 13 —they cover most industrial requirements for fire resistant fluids.
Marketed by: The British Petroleum Co. Ltd.. Britannic House, Moor Lane, London, EC I .
Screenwash additive Research into the problem of keeping windscreens free from smearing has resulted in Trico Folberth patenting a chemical formula which is claimed to prevent contamination and stop smear forming, It is called Anti-Smear Solvent and it is available in 1 oz sachets and 6oz bottles.
Used in a screenwasher as an additive it will keep the screen continually clear. The product is also obtainable in a 12oz plastic squeeze bottle for direct application to the screen this is called SR. 12 Anti-Smear. Marketed by: Trico-Folberth Ltd., Great West Road, Brentford, Middx.
Price: Anti-Smear Solvent, 1oz satchet, 1s, 6oz bottle. 4s 3d; SR_12 Anti-Smear, 4s 3d.