High efficiency portable weighbridge
31st May 1968
Page 33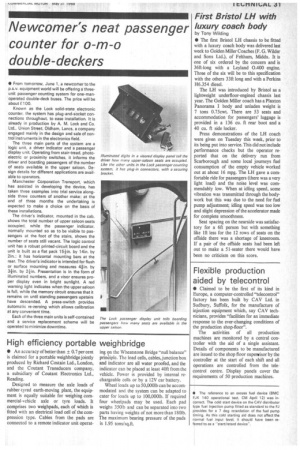 Page 33, 31st May 1968 —
High efficiency portable weighbridge
Close
• An accuracy of better than + 0.7 per cent is claimed for a portable weighbridge jointly produced by Richard Costain Ltd., London, and the Coutant Transducers company, a subsidiary of Coutant Electronics Ltd., Reading.
Designed to measure the axle loads of rubber-tyred earth-moving plant, the equipment is equally suitable for weighing commercial-vehicle axle or tyre loads. It comprises two weighpads, each of which is fitted with an electrical load cell of the compression type. Cables from the pads are connected to a remote indicator unit operat
ing on the Wheatstone Bridge "null balance" principle. The load cells, cables, junction box and indicator are all water proofed, and the indicator can he placed at least 40ft from the vehicle. Power is provided by internal rechargeable cells or by a 12V car battery.
Wheel loads up to 50,0001b can be accommodated and the system can be adapted to cater for loads up to 100,0001b. If required four wheelpads may be used. Each pad weighs 350Lb and can be separated into two parts having weights of not more than 1801b. The maximum bearing pressure of the pads is 1.95 tonsisq.ft.