New chairman for UTC
31st May 1968
Page 32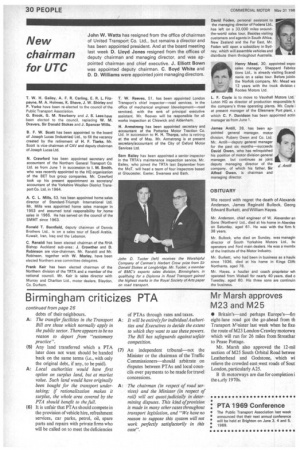 Page 32, 31st May 1968 —
New chairman for UTC
Close
John W. Watts has resigned from the office of chairman of United Transport Co. Ltd., but remains a director and has been appointed president. And at the board meeting last week D. Lloyd Jones resigned from the offices of deputy chairman and managing director, and was appointed chairman and chief executive. J. Elliott Bown was appointed deputy chairman. C. Boyd White and D. D. Williams were appointed joint managing directors.
T. W. H. Gailey, A. F. R. Cading, E. R. L. Fitzpayne; M. A. Holmes, K. Shave, J. W. Shirley and P. Yorke have been re-elected to the council of the Public Transport Association.
G. Brook, G. M. Newberry arid J. S. Lees have been elected to the council, replacing W. M. Dravers. Sir Donald Stokes and J. Spencer Wills.
B. F. W. Scott has been appointed to the board of Joseph Lucas (Industries) Ltd.. to fill the vacancy created by the retirement of H. F. Tiarks. Mr. Scott is vice-chairman of CAV and deputy chairman of Joseph Lucas Ltd.
N. Crawford has been appointed secretary and accountant of the Northern General Transport Co. Ltd. as from June 1 in succession to I. M. Smith, who was recently appointed to the HO organization of the BET bus group companies. Mr. Crawford took up his present appointment as secretary/ accountant of the Yorkshire Woollen District Transport Co. Ltd. in 1964.
A. C. 1, Mills, 53, has been appointed home sales director of Standard-Triumph International Ltd. Mr. Mills was appointed home sales manager in 1963 and assumed total responsibility for home sales in 1965. He has served on the council of the SMMT since 1963.
Ronald T. Barnfield, deputy chairman of Dennis Brothers Ltd., is on a sales tour of Saudi Arabia, Kuwait, Iran, Iraq and the Lebanon.
C. Ranaldi has been elected chairman of the RHA Bishop Auckland sub-area; J. Crowther and D. Robinson are vice-chairmen. Mr. Ranaldi and Mr. Robinson. together with W. Morley, have been elected Northern area committee delegates.
Frank Keir has been elected chairman of the Northern division of the TRTA and a member of the national council. Mr. Keir is sales director with Murray and Charlton Ltd., motor dealers. Blaydon, Co. Durham. T. W. Reeves. 51, has been appointed London Transport's chief inspector—road services, in the office of mechanical engineer (development—road services), with the rank of principal executive assistant. Mr. Reeves will be responsible for all works inspection at Chiswick and Aldenham.
H. Armstrong has been appointed secretary and accountant of the Potteries Motor Traction Co. Ltd. in succession to H. H. Thorpe, who is retiring at the end of May. Mr. Armstrong is at present secretary/accountant of the City of Oxford Motor Services Ltd.
Sam Bailey has been appointed a senior inspector in the TRTA's maintenance inspection service. Mr. Bailey, who joined the TRTA last September from the MoT, will head a team of four inspectors based at Gloucester, Exeter, Swansea and Bath.
John D. Tucker (left) receives the Worshipful Company of Carmen's Herbert Crow prize from Sir Donald Stokes at Longbridge. Mr. Tucker, a member of BMC's exports sales division, Birmingham, in qualifying for a Diploma in Road Transport gained the highest marks in the Royal Society of Arts paper on road transport. David Foden, personal assistant to the managing director of Foderts Ltd., has left on a 33,000 miles aroundthe-world sales tour. Besides visiting customers and agents in South Africa, New Zealand and the Far East, Mr. Foden will open a subsidiary in Sydney, which will assemble vehicles and distribute them throughout Australia.
Henry Mead, 30, appointed expo' sales manager, Sheppard Fabrics tions Ltd., is already visiting Scand navia on a sales tour. Before joinin the Norfolk company, Mr. Mead wa 12 years with the truck division c Rootes Motors Ltd.
L. F. Coyle is to move to Vauxhall Motors Ltd.' Luton HQ as director of production responsible fc the company's three operating plants. Mr. Coylel at present manager of the Ellesmere Port plant, c which C. F. Davidson has been appointed actin manager as from June 1.
James Antill, 38, has been appointed general manager, motor division, Rubery Owen and Co. Ltd. Mr. Antill—deputy general manager for the past six months—succeeds David Owen, who has relinquished his position of motor division general manager, but continues as joint deputy managing director of the company, of which his father, Sir Alfred Owen, is chairman and managing director.
OBITUARY
We record with regret the death of AlexandE Anderson, James Reginald Bullock, Georg Edward Burkett, and William Hayes.
Mr. Anderson, chief engineer of W. Alexander an Sons (Northern) Ltd., died at his home in Aberdee on Saturday, aged 61. He was with the firm ft 38 years.
Mr. Bullock, who died on Sunday, was managin director of South Yorkshire Motors Ltd., bt, operators and Ford main dealers. He was a membi of the Institute of the Motor Industry.
Mr. Burkett, who had been in business as a hau lit since 1936, died at his home in Kings Cliffo Northants, aged 78, Mr. Hayes, a haulier and coach proprietor wh operated from Walsall for nearly 40 years, died o Tuesday, aged 60. His three sons are continuin the business.
Tags
People
:
H. F. Tiarks
,
John D. Tucker
,
J. Crowther
,
James Reginald Bullock
,
William Hayes
,
H. H. Thorpe
,
David Owen
,
Alfred Owen
,
C. F. Davidson
,
J. Spencer Wills
,
David Foden
,
D. D. Williams
,
John W. Watts
,
F. W. Scott
,
Anderson
,
Frank Keir
,
J. Elliott Bown
,
C. Ranaldi
,
I. M. Smith
,
Donald Stokes
,
Georg Edward Burkett
,
N. Crawford
,
Herbert Crow
,
Ronald T. Barnfield
,
Henry Mead
,
C. Boyd White
,
H. Armstrong
,
Coylel
,
James Antill
,
D. Robinson
,
D. Lloyd Jones
,
Sheppard Fabrics
,
Sam Bailey