Drivers' hours in UK and Common Market
31st May 1968
Page 18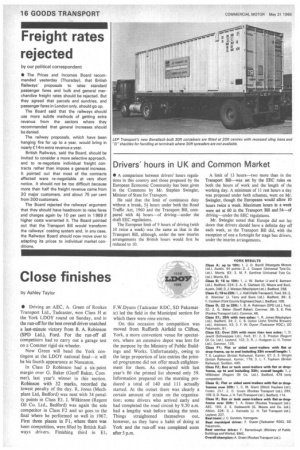 Page 18, 31st May 1968 —
Drivers' hours in UK and Common Market
Close
• A comparison between drivers' hours regulations in this country and those proposed by the European Economic Community has been given in the Commons by Mr. Stephen Swingler, Minister of State for Transport.
He said that the limit of continuous duty without a break, 5f hours under both the Road Traffic Act, 1960 and the Transport Bill, compared with 4-ihours—of driving—under the draft EEC regulations.
The European limit of 9 hours of driving (with 10 twice a week) was the same as that in the Transport Bill, although, under the new interim arrangements the British hours would first be reduced to 10. A limit of 13 hours—two more than in the Transport Bill was set by the EEC rules on both the hours of work and the length of the working day. A minimum of 11 rest hours a day was proposed under both schemes, went on Mr. Swingler, though the Europeans would allow 10 hours twice a week. Maximum hours in a week were set at 60 in the Transport Bill and 54 of
driving under the EEC regulations.
Mr. Swingler noted that Europe did not lay down that drivers should have a definite day off each week, as the Transport Bill did, with the exception of one a fortnight for stage bus drivers, under the interim arrangements.