4 corporate image for Charrington 's transport
31st May 1968
Page 17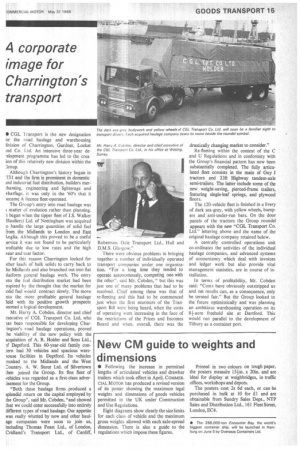 Page 17, 31st May 1968 —
4 corporate image for Charrington 's transport
Close
• CGL Transport is the new designation or the road haulage and warehousing iivision of Charrington, Gardner, Locket ind Co. Ltd. An intensive three-year de=elopment programme has led to the creaion of this relatively new division within the 'Row.
Although Charrington's history began in 731 and the firm is prominent in domestic ind industrial fuel distribution, builders mer;limiting, engineering and lighterage and vharfage. it was only in the '60's that it )ecame A licence fleet-operated.
The Group's entry into road haulage was I matter of evolution rather than planning. t began when the tipper fleet of J.S. Walker Hauliers) Ltd. of Nottingham was acquired o handle the large quantities of solid fuel From the Midlands to London and East Although this proved to be a useful ;ervice it was not found to be particularly rofitable due to low rates and the high year and tear factor.
For this reason Charrington looked for rher loads of bulk solids to carry back to he Midlands and also branched out into flat )latform general haulage work. The entry nto the fuel distribution market had been nspired by the thought that the market for ;olid fuel would contract slowly. The move nto the more profitable general haulage ield with its positive growth prospects ieemed a logical development.
Mr. Harry A. Cobden, director and chief xecutive of CGL Transport Co. Ltd, who las been responsible for developing Charington's road haulage operations, proved he viability of the new policy with the tcquisition of A. R. Holder and Sons Ltd., )f Deptford. This 60-year-old family con:..ern had 30 vehicles and spacious warelouse facilities in Deptford. Its vehicles runked to the Midlands and the West Country. A. W. Stout Ltd. of Silvertown then joined the Group. Its fine fleet of vehicles was regarded as a first-class advertisement for the Group.
"Both these haulage firms produced a splendid return on the capital employed by the Group", said Mr. Cobden, "and showed that we could enter successfully into entirely different types of road haulage. Our appetite was really whetted by now and other haulage companies were soon to join us, including Thomas Feast Ltd., of London, Cridland's Transport Ltd., of Cardiff, Robertson Dale Transport Ltd., Hull and D. M.S. Glasgow."
There were obvious problems in bringing together a number of individually operated transport companies under one organization. "For a long time they tended to operate autonomously, competing one with the other", said Mr. Cobden, " but this was just one of many problems that had to be resolved. Chief among these was that of re-fleeting and this had to be commenced just when the first murmurs of the Transport Bill were being heard, when the costs of operating were increasing in the face of the restrictions of the Prices and Incomes Board arid when, overall, there was the
drastically changing market to consider."
Re-fleeting within the context of the C and U Regulations and in conformity with the Group's financial pattern has now been substantially completed. The fully articulated fleet consists in the main of Guy .1 tractors and 33ft Highway tandem-axle semi-trailers. The latter include some of the new weight-saving, pierced-frame trailers, featuring single-leaf springs, and plywood floors.
The 120-vehicle fleet is finished in a livery of dark sea-grey, with yellow wheels, bumpers and anti-under-run bars. On the door panels of the tractors the Group roundel appears with the new "CGL Transport Co. Ltd." lettering above and the name of the original haulage company retained below.
A centrally controlled operations unit co-ordinates the activities of the individual haulage companies, and advanced systems of accountancy which deal with invoices and ledger work but also provide vital management statistics, are in course of installation.
In terms of profitability, Mr. Cobden said: "Costs have obviously outstripped us and net results can, as a consequence, only be termed fair." But the Group looked to the future optimistically and was planning an ambitious warehousing operation on its 8f acre freehold site at Dartford. This would run parallel to the development of Tilbury as a container port.