'Britain's transport soloists should form an orchestra'
31st May 1968
Page 16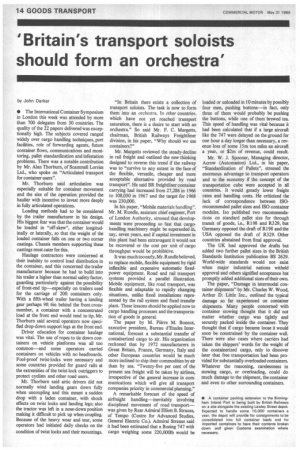 Page 16, 31st May 1968 —
'Britain's transport soloists should form an orchestra'
Close
Keywords :
Transport
,
Technology
,
Shipping
,
Intermodal Containers
,
Packaging
,
Containerization
,
Container Ship
,
Freight Rail Transport
,
Cargo
,
Pallet
,
Port
,
Intermodal Freight Transport
by John Darker • The International Container Symposium in London this week was attended by more than 700 delegates from 30 countries. The quality of the 22 papers delivered was exceptionally high. The subjects covered ranged widely over cargo handling techniques, port facilities, role of forwarding agents, future container flows, communications and monitoring, pallet standardization and infestation problems, There was a notable contribution by Mr. Alan Thorburn, of Scanunell Lorries Ltd., who spoke on "Articulated transport for container users".
Mr. Thorburn said articulation was especially suitable for container movement and the size of the operation provided the haulier with incentive to invest more deeply in fully articulated operations.
Loading methods had to be considered by the trailer manufacturer in his design. His biggest fear was that the container would be loaded in "off-skew", either longitudinally or laterally, so that the weight of the loaded container falls on one or two corner castings. Chassis members supporting these castings must cater for this.
Haulage contractors were concerned at their inability to control load distribution in the container, and this concerned the trailer manufacturer because he had to build into his trailer a higher than normal safety factor, guarding particularly against the possibility of front-end tip—especially on trailers used for the carriage of 20ft containers only. With a fifth-wheel trailer having a landing gear perhaps 9ft 6in behind the front crossmember, a container with a concentrated load at the front end would tend to tip. Mr. Thorburn said several operators now specified drop-down support legs at the front end.
Driver education for container haulage was vital. The use of ropes to tie down containers on vehicle platforms was all too common—and some operators carried containers on vehicles with no headboards. Fool-proof twist-locks were necessary and some countries provided for guard rails at the extremities of the twist-lock outriggers to protect cyclists and other road users.
Mr. Thorburn said artic drivers did not normally wind landing gears down fully when uncoupling and this meant a sudden drop with a laden container, with shock effects on twist locks and landing legs; also the tractor was left in a nose-down position making it difficult to pick up when coupling. Because of the heavy wear and tear, some operators had initiated daily checks on the condition of twist locks and their mountings. "In Britain there exists a collection of transport soloists. The task is now to form them into an orchestra. In other countries, which have not yet reached transport saturation, there is a desire to start with an orchestra." So said Mr. F. C. Margetts, chairman, British Railways Freightliner division, in his paper, "Why should we use containers?"
Mr. Margetts reviewed the steady decline in rail freight and outlined the new thinking designed to reverse this trend if the railway was to "survive to any extent in the face of the flexible, versatile, cheaper and more acceptable alternative provided by road transport". He said BR freightliner container carrying had increased from 27,286 in 1966 to 108,050 in 1967 and the target for 1968 was 230,000.
In his paper, "Mobile materials handling", Mr. M. Rundle, assistant chief engineer, Port of London Authority, stressed that developments were proceeding so fast that cargohandling machinery might be superseded in, say, seven years, and if capital investment in this plant had been extravagant it would not be recovered or the cost per unit of cargo throughput would be prohibitive.
It was much too early, Mr. Rundle believed, to replace mobile, flexible equipment by rigid inflexible and expensive automatic fixedpower equipment. Road and rail transport systems provided a parallel illustration. Mobile equipment, like road transport, was flexible and adaptable to rapidly changing situations, unlike fixed installations represented by the rail system and fixed transfer plant. These lessons should be applied now to cargo handling processes and the transportation of goods in general.
The paper by M. Pierre M. Bonnot, executive president, Bureau d'Etudes International, forecast a substantial transfer of containerized cargo to air. His organization reckoned that by 1972 manufacturers in Great Britain, France, Germany, Italy and other European countries would be much more inclined to ship their commodities by air than by sea. "Twenty-five per cent of the present sea freight will be taken by airlines, irrespective of the general increase in communications which will give all transport companies priority in commercial planning."
A remarkable forecast of the speed of airfreight handling—inevitably involving disciplined movement of road transport— was given by Rear Admiral Elliott B. Strauss, of Tempo (Centre for Advanced Studies, General Electric Co.). Admiral Strauss said it had been estimated that a Boeing 747 with cargo weighing some 220,000lb would be loaded or unloaded in 10 minutes by possibly four men, pushing buttons—in fact, only three of them would probably be pushing the buttons, while one of them brewed tea. This speed of handling was vital because it had been calculated that if a large aircraft like the 747 were delayed on the ground for one hour a day longer than necessary, a revenue loss of some 15m ton miles an aircraft a year, or $2m of revenue, could result.
Mr. W. J. Spooner, Managing director, Acrow (Automation) Ltd., in his paper, "Standardization of Pallets", stressed the enormous advantage to transport operators and to the economy if the concept of the transportation cube were accepted in all countries. It would greatly lower freight rates and handling costs. He criticized the lack of correspondence between ISOrecommended pallet sizes and ISO container modules. Iso published two recommendations on standard pallet size for through transit of goods, i.e., R198 and R329, but Germany opposed the draft of R198 and the USA opposed the draft of R329. Other countries abstained from final approval.
The UK had approved the drafts but added two further pallet sizes in the British Standards Institution publication BS 2629. World-wide standards would not exist when major industrial nations witheld approval and others signified acceptance but promptly added additional sizes of their own.
The paper, "Damage in intermodal container shipments" by Mr. Charles W. Wood, Arthur D. Little Inc., outlined the typical damage so far experienced on container shipments. Many people concerned with container stowing thought that it did not matter whether cargo was tightly and securely packed inside the container. They thought that if cargo became loose it would soon be constrained by the container wall. There were also cases where carriers had taken the shippers' words for the weight of the containerized cargo, only to discover later that free transportation had been provided for substantially overloaded containers. Whatever the reasoning, carelessness in stowing cargo, or overloading, could do much damage to the shipment, the container and even to other surrounding containers.
• A container packing extension to the Birmingham Inland Port is being built by British Railways on a site alongside the existing Lawley Street depot. Expected to handle some 10,000 containers a year, the depot will provide for consignments to be consolidated into full container loads and for imported containers to have their contents broken down and given Customs examination where necessary.