Government funks 5,000 Freedom rallyists
31st May 1968
Page 14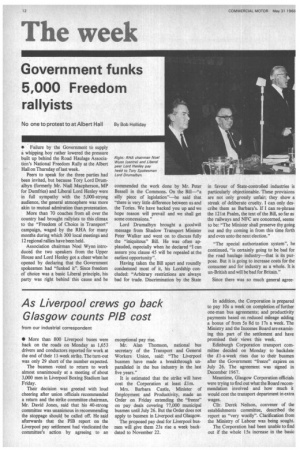 Page 15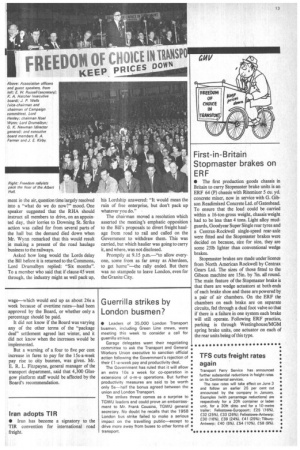 Page 14, 31st May 1968 —
Government funks 5,000 Freedom rallyists
Close
No one to protest to at Albert Hall By Bob Holliday
• Failure by the Government to supply a whipping boy rather lowered the pressure built up behind the Road Haulage Associadon's National Freedom Rally at the Albert Hall on Thursday of last week.
Peers to speak for the three parties had been invited, but because Tory Lord Drumalbyn (formerly Mr. Niall Macpherson, MP for Dumfries) and Liberal Lord Henley were in full sympathy with the 5,000-strong audience, the general atmosphere was more akin to mutual admiration than protestation.
More than 70 coaches from all over the country had brought rallyists to this climax to the "Freedom of Choice in Transport" campaign, waged by the RHA for many months during which 300 local meetings and 12 regional rallies have been held.
Association chairman Noel Wynn introduced the two speakers from the Upper House and Lord Henley got a cheer when he opened by declaring that the Government spokesmen had "funked it". Since freedom of choice was a basic Liberal principle, his party was right behind this cause and he commended the work done by Mr. Peter Bessell in the Commons. On the Bill—"a silly piece of legislation"—he said that "there is very little difference between us and the Tories. We have backed you up and we hope reason will prevail and we shall get some concessions."
Lord Drumalbyn brought a goodwill message from Shadow Transport Minister Peter Walker and went on to discuss fully the "iniquitous" Bill. He was often applauded, especially when he declared "I can assure you clause 45 will be repealed at the earliest opportunity".
Having taken the Bill apart and roundly condemned most of it, his Lordship concluded: "Arbitrary restrictions are always bad for trade. Discrimination by the State in favour of State-controlled industries is particularly objectionable. These provisions are not only grossly unfair; they show a streak of deliberate cruelty. I can only describe them as Barbara's. If I can re-phrase the 121st Psalm, the text of the Bill, so far as the railways and NFC are concerned, seems to be: "The Minister shall preserve thy going out and thy coming in from this time forth and even unto the next election."
"The special authorization system", he continued, "is certainly going to be bad for the road haulage industry—that is its purpose. But it is going to increase costs for the consumer and for industry as a whole. It is un-British and will be bad for Britain."
Since there was so much general agree ment in the air, question time largely resolved into a "what do we do now?" mood. One speaker suggested that the RHA should instruct all members to drive, on an appointed day, their lorries to Downing St. Strike action was called for from several parts of the hall but the demand died down when Mr. Wynn remarked that this would result iri making a present of the road haulage business to the railways.
Asked how long would the Lords delay the Bill before it is returned to the Commons, Lord Drumalbyn replied: "Six months". To a member who said that if clause 45 went through, the industry might as well pack up, his Lordship answered: "It would mean the ruin of free enterprise, but don't pack up whatever you do."
The chairman moved a resolution which asserted the meeting's emphatic opposition to the Bill's proposals to divert freight haulage from road to rail and called on the Government to withdraw them. This was carried, but which haulier was going to carry it, and where, was not disclosed.
Promptly at 9.15 p.m.—"to allow everyone, some from as far away as Aberdeen, to get home"—the rally ended. But there was no stampede to leave London, even for the Granite City.